Create a Hassle-Free Map of Metro Market Locations
Mapping Metro Market locations can be done in a few seconds with Mapline.
Metro Market
is a unique grocery store known for catering to the lifestyles of people on the go. It was introduced in 2004 where the 1st store is located in downtown Milwaukee. It is a one-stop shop that introduced the urban shopping concept. Who wouldn't love a café that's wi-fi equipped and serving espresso and gelato which instantly becomes the neighborhood favorite? Metro Market prides itself into offering an expansive selections of baked goods, fresh meat, produce, and seafood, and prepared gourmet meals. Using Mapline, create a map of Metro Market locations without the hassles of going through the internet and look for each location address. With just a few clicks of a button, your map is done!


Steps to Create a Map of Metro Market Locations
Create a Mapline account and login.
Click "New Map" to create a new map.
Give your map a name and click "Create Map."
Click the orange "Add Data Layers" button from the left sidebar.
Select the "Add Pins from Mapline Data" option.
Now you will see a list of all the datasets (spreadsheets).
Using the Search Box, select "Metro Market" as your dataset.
Click "Done."
Not only can you map almost instantly but you can also use other mapping features like
customizing your map pin
like the map below: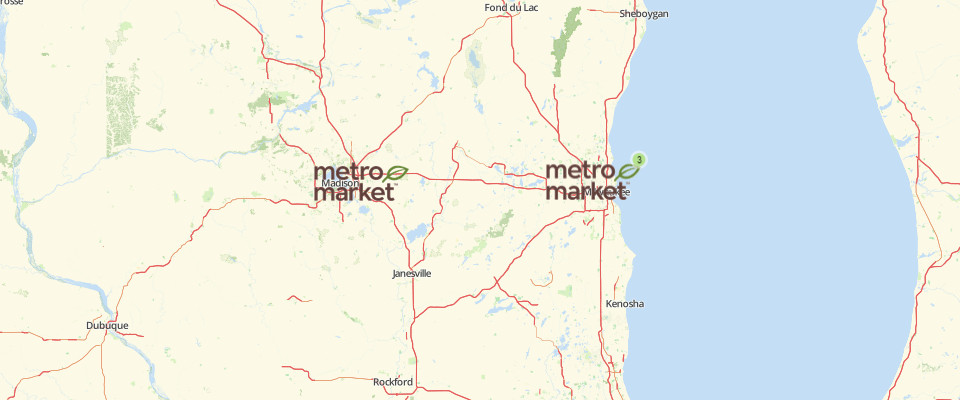 Now here's the more awesome part… Mapline makes it easier for you to use features to make your map look more awesome while diving deep into data analysis! First there's the options to
show the labels
or
cluster the pins
. To know your dense areas, you can create
heat maps
 or 
add coverage overlay
for a deeper analysis. Just click on any icon on your map to see the location-specific information that came directly from your spreadsheet – all easily accessed in a
bubble
. Need more data sets to map? We have
more than 5,000 companies and over 4 million locations
available for you!
Sign up now
to create a Metro Market locations map.