Create a Map of Badcock Home Furniture Locations
When Easy Mapping and Ready Dataset Collide
Mapline has something that no other competitor mapping software offers – location datasets of companies. With this feature, it now makes easier (and less of a headache!) for the users to build a map. What if the dataset contains hundreds of locations? No problem! One example is creating a map of
Badcock Home Furniture Stores
which can take you up to a minute to build.

How? Just 8 simple steps a minute of your time to achieve:
Steps to Create a Map of Badcock Home Furniture Locations
1.
Create a Mapline account
and login. 2. Click "New Map" to create a new map. 3. Give your map a name and click "Create Map." 4. Click the orange "Add Data Layers" button from the left sidebar. 5. Select the "Add Pins from Mapline Data" option. 6. Now you will see a list of all the datasets (spreadsheets). 7. Using the Search Box, select "Badcock Home Furniture" as your dataset. 8. Click "Done." You will be happier with the result when you start customizing the pins. Download a logo of Badcock Home Furniture and
make it as your map icon
like this map: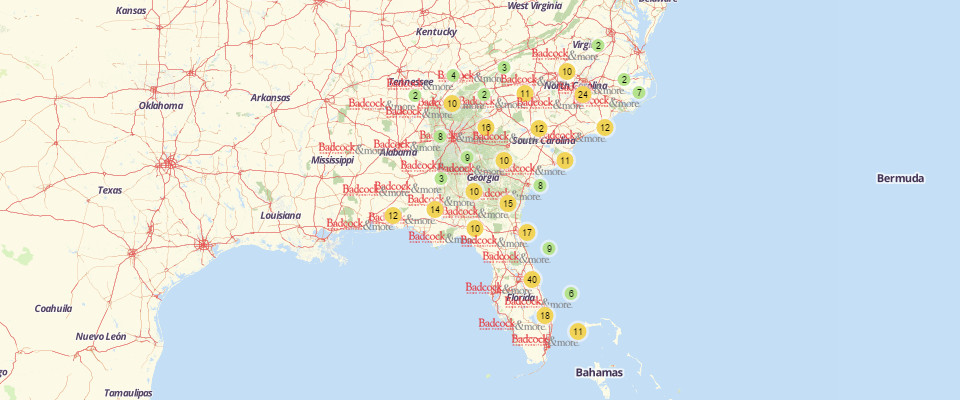 Why Settle for Other Competitor Mapping Software?
Mapline continuously provide features and tools to remain true to our tag line – Mapping Made Simple. After all, that's the whole essence of mapping, right? To make it easy for you as you learn new ideas to achieve your goals. Hence, you can try other features to make data analysis achieved in the littlest of time spent through various data visualization options:
labeling
the addresses,
filtering
the data,
heat mapping
,
customizing territory boundaries
, and a whole lot more! Check out
this list
of datasets that we have from over 5,000 companies (and counting!). Start to create your map of Badcock Home Furniture locations today.