Learn a Lot From a Map of Associated Food Stores
What to Learn From a Map of Associated Food Stores
Mapping Associated Food Stores is now made easy with Mapline. Mapping it does not require you to collate address locations of Associated Food Stores because we already have it for you! 
Associated Food Stores
is a retailers cooperative corporation that supplies around 500 independently owned retailers in Arizona, Colorado, Idaho,  Montana, Nevada, Oregon, Utah, and Wyoming. It was founded by Donald P. Lloyd in 1940. The headquarters are located in Salt Lake City, Utah. Using Mapline, easily create a map of Associated Food Stores without spending hours (or days!) trying to collate all locations. With a ready spreadsheet, Mapline makes it the easiest for you to map all locations of Associated Food stores.


Steps to Create a Map of Associated Food Stores
Create a Mapline account and login.
Click "New Map" to create a new map.
Give your map a name and click "Create Map."
Click the orange "Add Data Layers" button from the left sidebar.
Select the "Add Pins from Mapline Data" option.
Now you will see a list of all the datasets (spreadsheets).
Using the Search Box, select "Associated Food Stores" as your dataset.
Click "Done."
To make your map look even better, try
customizing your map pin
. It is super easy to upload an image of Associated Food Stores logo and turn it as your pin.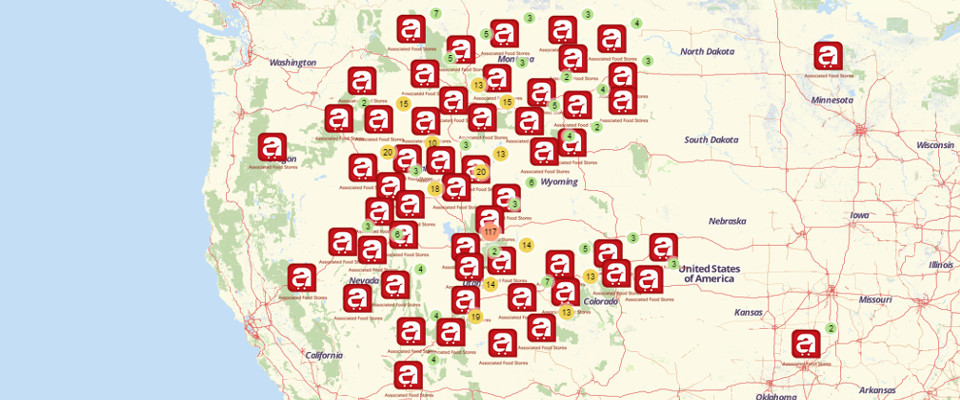 As you see how your map turns out, there's no need to stop! Why not try adding more features? You'll be surprised to learn that the features are so beneficial to your map presentations as well as data analysis. For presentations, there are options to
show the labels
of the locations, or click on any pin to show a
bubble
that contains spreadsheet information about that location. For data analysis, you can add
coverage overlay
, or create a
heat map
, or
measure distance
between locations. Why waste time collating locations when Mapline provides datasets of address locations of companies? Oh, and did we mention that we have the
location spreadsheets of over 5,000 companies
?  
Sign up now
to create an Associated Food Stores map.