Reshape Your Data Analysis with Cumberland Farms Locations Map
A map of Cumberland Farms locations may help you reshape your data analysis. But without a list of locations, how will you start? With Mapline, you can start at any time! 
Cumberland Farms
is a chain of convenience stores based in Massachusetts. It operates in New England region of the USA particularly in the Mid-Atlantic area. There are almost 600 stores of Cumberland Farms including convenience stores, gasoline stations, and a support system scattered around 11 states – Delaware, Connecticut,  Florida, Maine Massachusetts, New Jersey, New Hampshire,  New York, Rhode Island, Pennsylvania, and Vermont. Cumberland Farms was founded in 1938 by Greek immigrants Vasilios and Aphrodite Haseotes. It was origanally a single cow farm in Cumberland, Rhode Island until it has grown to be the largest dairy farm in Southern New England. The first convenience store was opened in 1962. Using Mapline, spend a minute or less creating a map of Cumberland Farms locations.


Steps to Create a Map of Cumberland Farms Locations
Create a Mapline account and login.
Click "New Map" to create a new map.
Give your map a name and click "Create Map."
Click the orange "Add Data Layers" button from the left sidebar.
Select the "Add Pins from Mapline Data" option.
Now you will see a list of all the datasets (spreadsheets).
Using the Search Box, select "Cumberland Farms" as your dataset.
Click "Done."
When you're done adding the location dataset, help your viewers understand your map story. Begin with
uploading custom images
for your map pins. Just add a Cumberland Farms logo and make it your map icon.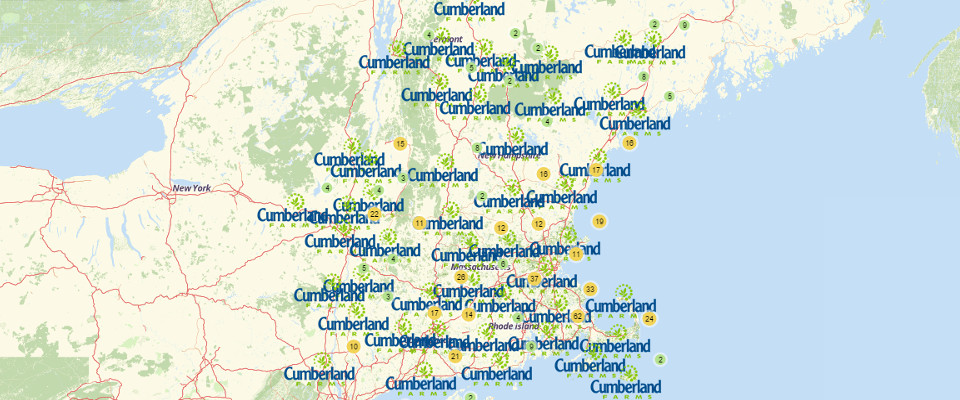 Now once you have your map, lead your viewers into other chapters of your map story. Try
showing the labels
or
cluster the pins
for a better map presentation. As your story dig deeper, you may want to create a
heat map
or add
coverage overlay
or
measure distances between 2 locations
. You might also be surprised just far how the
bubble
would take you. When you click on a map pin, it will show up and you're like looking at the spreadsheet mirror of that location. Of course you can always add another Mapline-provided dataset or easily create a new map. We have
location datasets of over 5,000 companies
.
Sign up now
to create a Cumberland Farms locations map.