Save Time When Mapping Tom Thumb Locations
Good news to all who want to map Tom Thumb locations. In less than a minute, these locations can be mapped using Mapline! 
Tom Thumb
 Supermarket was founded by 2 good friends – J.R. Bost and Bob Cullum in 1948. For almost 2 decades its sales volumes significantly grew, acquiring popular stores like Simon David, 34 Hinky Dinky stores, 17 Pantry Food Markets, and Page Drugs. In 1980s, Tom Thumb ventured with Wal-Mart. Since we have prepared the spreadsheet for you to easily create a map of Tom Thumb locations, you can save tons of excruciating hours scraping the internet and looking for the exact store addresses.


Steps to Create a Map of Tom Thumb Locations
Create a Mapline account and login.
Click "New Map" to create a new map.
Give your map a name and click "Create Map."
Click the orange "Add Data Layers" button from the left sidebar.
Select the "Add Pins from Mapline Data" option.
Now you will see a list of all the datasets (spreadsheets).
Using the Search Box, select "Tom Thumb" as your dataset.
Click "Done."
Wait till you play around your map to get that awesome mapping experience! First, upload a Tom Thumb logo and
customize your map pin
so your map would look like this: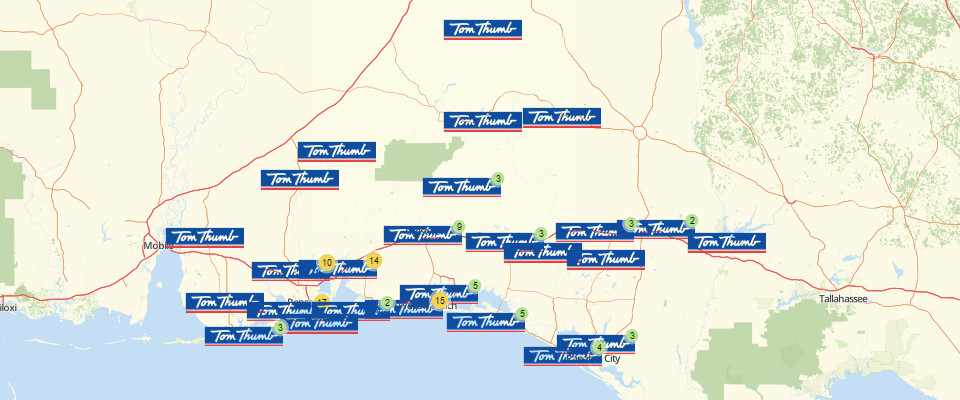 If that's not awesome enough, try using other features like
adding coverage overlay
or
build heat maps
for a more in depth analysis. Or,
show labels
or
cluster pins
– a highly recommended plus feature for map presentations. Do you know that you also
see your location information when you click any pin on your map?
Stop wasting tons of hours looking for locations data of Tom Thumb because we got you covered!
Map locations from 5,000 + well-known companies and over 4 million locations worldwide
Sign up now
to create a Tom Thumb locations map.