A Better View of Littman Jewelers Locations Map
Mapping a Littman Jewelers locations is easy when you have a spreadsheet for all the locations. Fortunately, Mapline has this specific spreadsheet of the locations of Littman Jewelry to make your mapping 99% easier! Littman Jewelers is one of the largest jewelers in the USA. It was founded in 1902 and until now, it is still a household name when it comes to fine jewelry. In 1998, it became a subsidiary of Fred Meyer Jewelers and a year after, Fred Meyer was acquired by The Kroger Company.
With Mapline, your map is ready to view in just a few clicks. We have 79 Littman Jewelers locations to map.


Steps to Create a Map of Littman Jewelers Locations
Create a Mapline account and login.
Click "New Map" to create a new map.
Give your map a name and click "Create Map."
Click the orange "Add Data Layers" button from the left sidebar.
Select the "Add Pins from Mapline Data" option.
Now you will see a list of all the datasets (spreadsheets).
Using the Search Box, select "Littman Jewelers" as your dataset.
Click "Done."
Want a better map view? Then you can turn your map pin into a Littman Jewelers logo just like this map: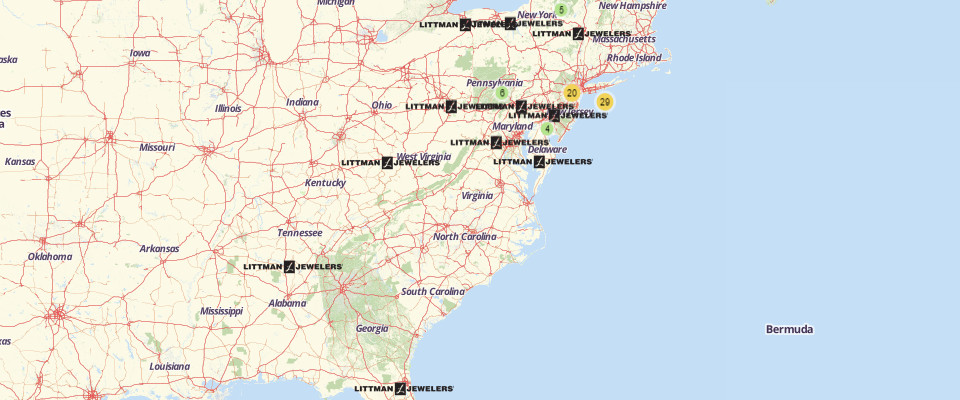 You will be thrilled to use more options to make an impact to your data visualization and analysis. To easily distinguish locations, show labels on pins. Filter your map pins if you want to show or hide them on your map according to their distinct characteristics. Create a heat map to shows color-coded concentrations of your data to easily identify the more dense areas. Also, you can click on any pin to see on a bubble the location-specific information that goes along with the information provided on the spreadsheet.
Access Mapline's datasets with locations from more than 5,000 companies worldwide! Sign up now to create a Littman Jewelers locations map.