A Simpler Way to Map QFC Locations
There are 66 QFC locations and if you'll be collating their location information one by one, you'll spend excruciating hours. Here in Mapline, we provide you the spreadsheet containing all the locations of that company. QFC (Quality Food Centers), is a supermarket chain operated by Kroger which is based in Bellevue, Washington. It has 64 stores in the Puget Sound region in Washington and Oregon states. QFC was first started in 1940s by Jack Croco. In 1997, it was sold to Fred Meyer. In 1999, The Kroger Company acquired Fred Meyer thus having QFC as one of its subsidiaries.
For many years, QFC has expanded significantly through acquisitions like A&P Supermarkets, Olson's Food Stores, Johnny's Food Centers, Stock Market Foods and Grocery Stores, Reed's Super Valu, Hughes Family Markets, and several Thriftway stores.
Create a map of QFC locations without the hassle of browsing the internet for its locations!


Steps to Create a Map of QFC Locations
Create a Mapline account and login.
Click "New Map" to create a new map.
Give your map a name and click "Create Map."
Click the orange "Add Data Layers" button from the left sidebar.
Select the "Add Pins from Mapline Data" option.
Now you will see a list of all the datasets (spreadsheets).
Using the Search Box, select "QFC (Quality Food Centers)" as your dataset.
Click "Done."
You may find that customizing your map pin and turn it into a QFC logo will make your map come alive just like the map below: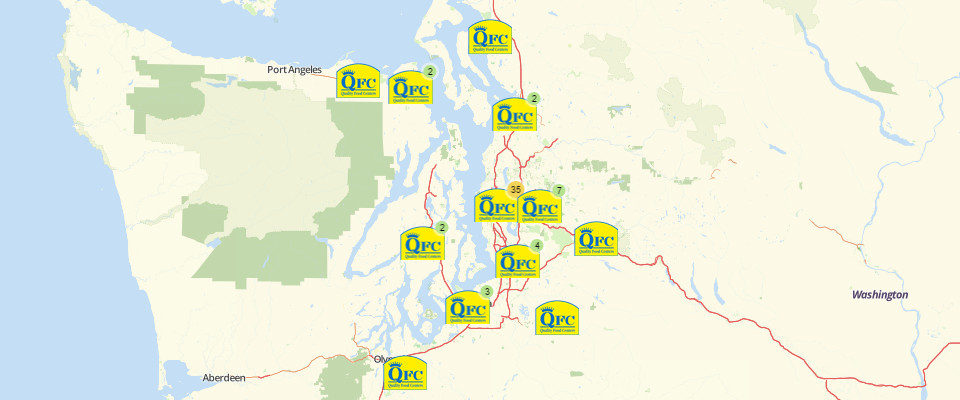 Is there any other simpler way to map QFC locations? Only with Mapline can you make your map look more awesome by adding more features that will help you with your presentations:
Click any icon on the map and you'll be surprised to see all the needed information about the location in a bubble! No need to scrape the internet for locations data. Check out from more than 5,000 companies and over 4 million locations worldwide! Sign up now to create a QFC locations map.