A Super Easy Way to Create a Map of 7-11 Locations
Analyze Data with a Map of 7-11 Locations
7-11 is one of the most popular chain of convenience stores in the world. In the USA alone, there are more than 7,700 stores operating in different states. So when you don't have a ready spreadsheet containing all the locations of 7-11 stores, you're in big trouble! Leave that hard task to Mapline! As an international company, 7-11 operates in 17 countries. And the company is the 24th largest retailer in the USA – a far cry from its humble beginnings.
Need a 7-11 locations map for retail store mapping and analysis? Choose Mapline to help you with your needed spreadsheet! Aside from USA locations, we also have locations of 7-11 stores in Japan, Mexico, Canada, and Sweden.


Steps to Create a Map of 7-11 Locations
Create a Mapline account and login.
Click "New Map" to create a new map.
Give your map a name and click "Create Map."
Click the orange "Add Data Layers" button from the left sidebar.
Select the "Add Pins from Mapline Data" option.
Now you will see a list of all the datasets (spreadsheets).
Using the Search Box, select "7-Eleven USA" as your dataset.
Click "Done."
Another super easy way to add spark on your map is to customize your pin by uploading a logo of 7-11. Then make it as your map icon just like the map below: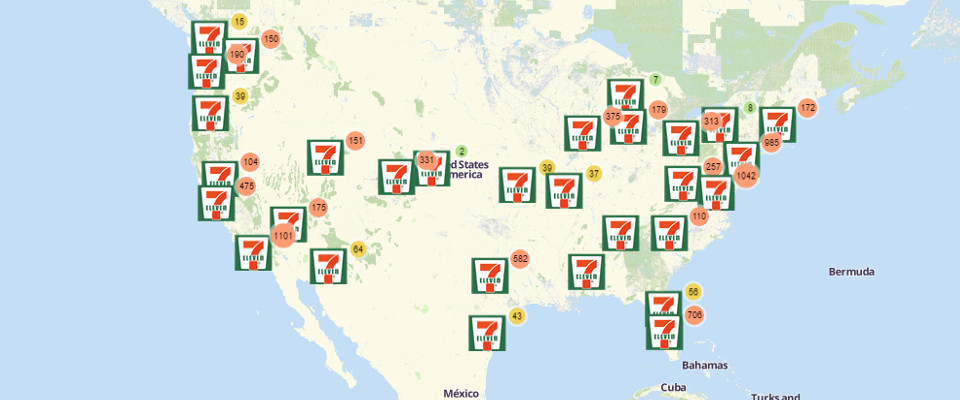 Notice that your pins are automatically clustered. Take control on how your pins will be clustered and how they look at your map. You can also click on any pin to make the bubble appear so you can see the spreadsheet detail of that particular location. Play with different features like adding sublayers or filtering options to add more insight to your analysis.
Choose Mapline as your dedicated mapping software to provide you with your needed spreadsheet. Browse here for the complete list of companies (more than 5,000) and their datasets. View plans and pricing to get started creating a 7-11 locations map.