Be Your Own Mapping Guru as You Map Quik Stop Locations
You don't have to be a spreadsheet and mapping guru to map all Quik Stop locations. Mapline provides accessible and user-friendly tools to help the users map in a zip! Quik Stop is a chain of convenience stores with the corporate office located in Freemont, California. It is one of the more than 780 convenience stores acquired by The Kroger Company. It operates in the states of California and Nevada.
Using Mapline, you can easily visualize all 100 Quik Stop locations by following these simple steps:


Steps to Create a Map of Quik Stop locations
Create a Mapline account and login.
Click "New Map" to create a new map.
Give your map a name and click "Create Map."
Click the orange "Add Data Layers" button from the left sidebar.
Select the "Add Pins from Mapline Data" option.
Now you will see a list of all the datasets (spreadsheets).
Using the Search Box, select "Quik Stop" as your dataset.
Click "Done."
After adding the Quik Stop dataset, let your map tell a story starting by uploading a Quik Stop logo and customizing your map pin.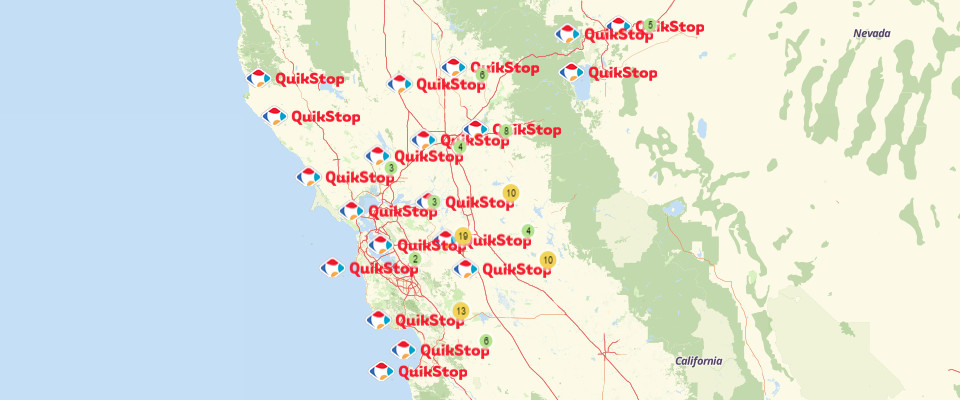 Enhance your map story by adding more features like drawing custom shapes, showing labels, filter map options, adding more pins (from Mapline data sets or you can add your own spreadsheet) or adding coverage overlay. See your location information summary by clicking any icon on your map.
Access more than 5,000 company datasets of locations without going through the trouble of scraping the internet! Sign up now to create a Quik Stop locations map.