Beat the Challenge of Mapping All UPS Store Locations
Many people face a big challenge of collating and mapping locations of The UPS Stores. After all, there are over 4,700 stores located in the USA, Canada, and Puerto Rico. The UPS Store is the largest franchiser of business service centers, printing, postal, and retail shipping in the world. The company is a subsidiary of United Parcel Service (UPS). The business concept was introduced in 1980 as Mail Boxes Etc., believed to be a better alternative to the post office.
Aside from the mapping tools designed to empower you with data visualization, Mapline also provides the dataset of The UPS Stores. This feature help you beat the time-consuming challenge of collating data so mapping can be done in just a few minutes – not hours or days!


Steps to Create a Map of UPS Store Locations
Create a Mapline account and login.
Click the orange "Add Data Layers" button from the left sidebar.
Click "New Map" to create a new map.
Give your map a name and click "Create Map."
Select the "Add Pins from Mapline Data" option.
Now you will see a list of all the datasets (spreadsheets).
Using the Search Box, select "The UPS Store" as your dataset.
Click "Done."
Add a UPS logo and make it as your map icon and see where your data analysis would take you even further.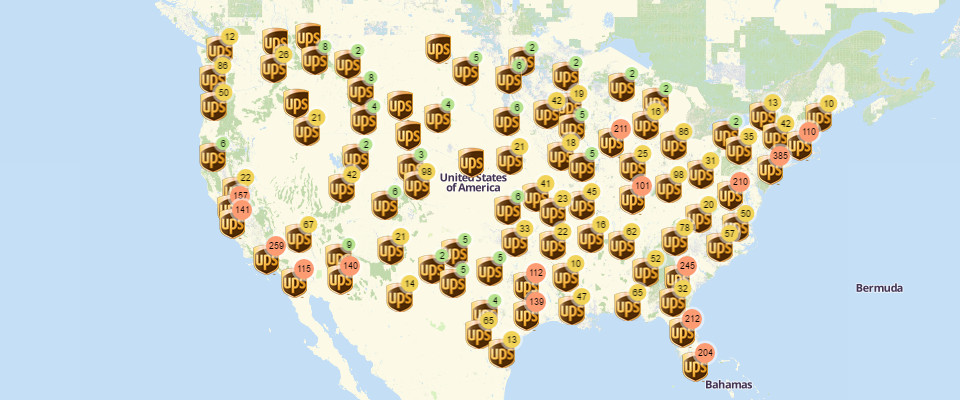 Mapline tools are not only designed for easy map-making. They are provided to analyze data faster and more effectively. For example, the filter option can be used to analyze distinct characteristics of the locations to reduce distractions. The distance measurement tools are used to draw circles or polygons on a map for your customized territories. Adding territory boundaries to maps provide the right analysis to make informed decisions.
Beat the challenge of mapping thousands of locations data. Choose Mapline to provide you with the needed dataset of companies you like to map. Sign up now to create a map of UPS store locations.