Build a Map of SpartanNash Stores – The Easiest Way
Looking for locations of SpartanNash stores to map? Look no further because Mapline brings you the spreadsheet of SpartanNash locations. SpartanNash is a grocery store retailer and a food distributor based in Byron Center, Michigan. The company is a product of the merging of 2 giant companies – Spartan Stores and Nash Finch. Spartan Stores began in 1917 while Nash Finch started its business way back in 1885. Together, they put up the SpartanNash Company which is now known to be the largest food distributor serving military commissaries and exchanges in the USA. Aside from the US, the stores are also located in Europe, Latin America, and the Middle East.
With Mapline, mapping the locations of SpartanNash is made so much easy! With just a few clicks, you can map the locations of 332 SpartanNash stores.


Steps to Create a Map of SpartanNash Stores
Create a Mapline account and login.
Click "New Map" to create a new map.
Give your map a name and click "Create Map."
Click the orange "Add Data Layers" button from the left sidebar.
Select the "Add Pins from Mapline Data" option.
Now you will see a list of all the datasets (spreadsheets).
Using the Search Box, select "SpartanNash" as your dataset.
Click "Done."
After mapping, you may want to stick around and play with other features. You'll be surprised just how your map will turn out to be! First, make a unique map pin icon. It's super easy! Just upload a logo of SpartanNash, choose your preferred size, and turn it as your new map pin icon.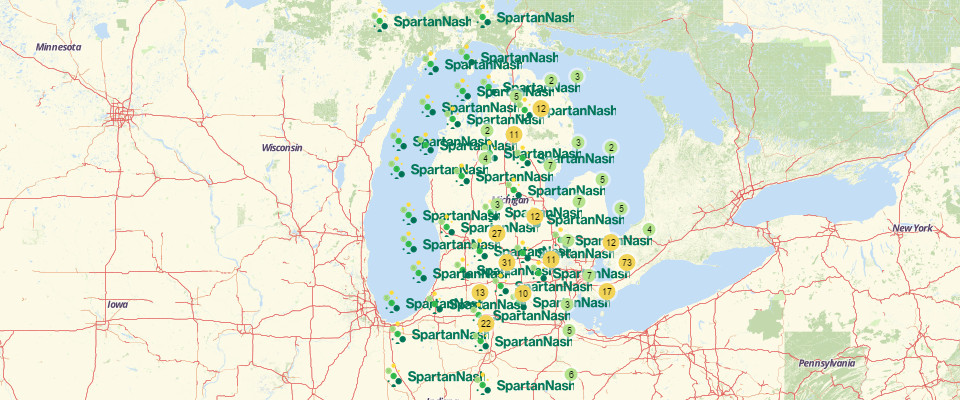 You may want to show the labels to identify the locations, or click on any pin to show the bubble that reveals the spreadsheet information of that location. Better yet, try clustering the pins so they would look more organized. What can even make your map look cooler is if you try adding coverage overlay or filter the pins so your map would reveal only the locations that are relevant to your analysis or presentation.
If that ain't easy, what can you call that? Browse here to view the list of 5,000 plus companies and their location spreadsheets. Sign up now to create a SpartanNash Stores map.