Map Thousands of Publix Store Locations in a Minute
Pin Publix Store Locations with Mapline
Mapline brings you 1,100 Publix locations to map. Publix is an employee-owned supermarket chain based in Lakeland, Florida. The company was founded in 1930, and today it has more than 1,100 stores scattered throughout the Southeast region of the USA in Alabama, Florida, Georgia, North Carolina, South Carolina, and Tennessee. Over the years, it has garnered awards and recognition including the Largest Private Company in Florida and the 13th Largest Retailer in America. Use retail store mapping to compare your data to all Publix locations.
You don't need to hire an intern just to collect all the addresses of Publix stores. Mapline has it for you. All you need is just a minute of your time to map.


How to Create a Map of Publix Store Locations
Create a Mapline account and login.
Click "New Map" to create a new map.
Give your map a name and click "Create Map."
Click the orange "Add Data Layers" button from the left sidebar.
Select the "Add Pins from Mapline Data" option.
Now you will see a list of all the datasets (spreadsheets).
Using the Search Box, select "Publix" as your dataset.
Click "Done."
Do away with the usual tear-shaped pin by customizing your map pin. Upload a Publix logo and make it your map pin image. How cool is that?
How to Use Locations of Publix Stores for Data Analysis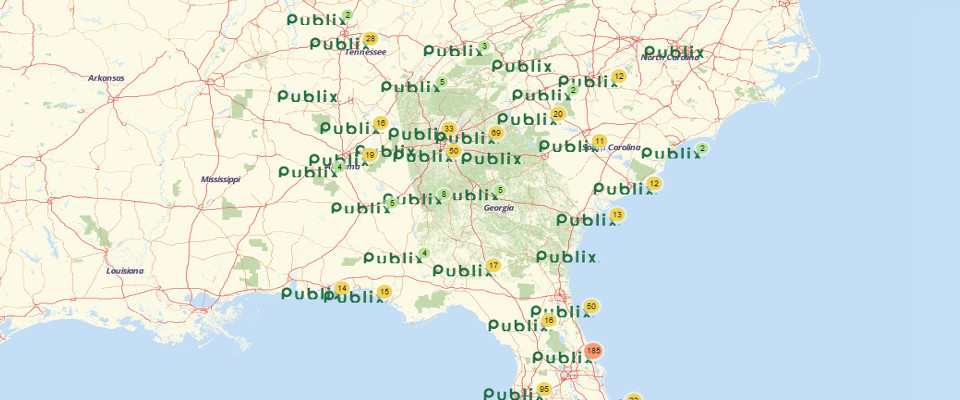 Now the fun begins… There's a drop down arrow beside the dataset name on the left sidebar. It contains different mapping features that you can select to make your map more intense. First, show the labels of your pins. Choose which to label (name, address, etc.) and the style of your label that will appear on the map. Group your map pins using the sublayer feature. Clustering pins help especially when you have a lot of pins scattered all throughout the map. Click any pin, and a bubble will appear showing all the information about that pin. You can also add an image or a clickable link to your spreadsheet and that will also be shown on the bubble.
With Mapline, mapping is easy and fast! Check out other companies' datasets to map. We have more than 5,000 companies and over 4 million locations on this list.