Create a Wawa Locations Map
Map Wawa Locations for Analysis
Forget about the tiresome task of collating all Wawa locations. We got it covered for you so you can spend your time analyzing data based on retail store mapping to be sure you're making informed decisions for your company.
Wawa is a chain of convenience stores and gasoline stations located along the East Coast of the USA. The company was founded in 1964 and since then, the number of stores has significantly increased. Today, Wawa operates more than 700 stores in Delaware, Florida, Maryland, New Jersey, Pennsylvania, and Virginia.
When you choose Mapline, you waste no time looking for all Wawa store locations. Mapline provides you with a spreadsheet of these locations so all you need to do is to spend a couple of minutes (maybe even less!) to create a map.


Steps to Create a Wawa Locations Map
Create a Mapline account and login.
Click "New Map" to create a new map.
Give your map a name and click "Create Map."
Click the orange "Add Data Layers" button from the left sidebar.
Select the "Add Pins from Mapline Data" option.
Now you will see a list of all the datasets (spreadsheets).
Using the Search Box, select "Wawa" as your dataset.
Click "Done."
Customizing and Segmenting Data on Your Wawa Locations Map
Now, the interesting part begins. After adding the dataset, do away with the usual tear-shaped pin image by customizing the map logo. Upload a Wawa logo and make it your icon just like this map: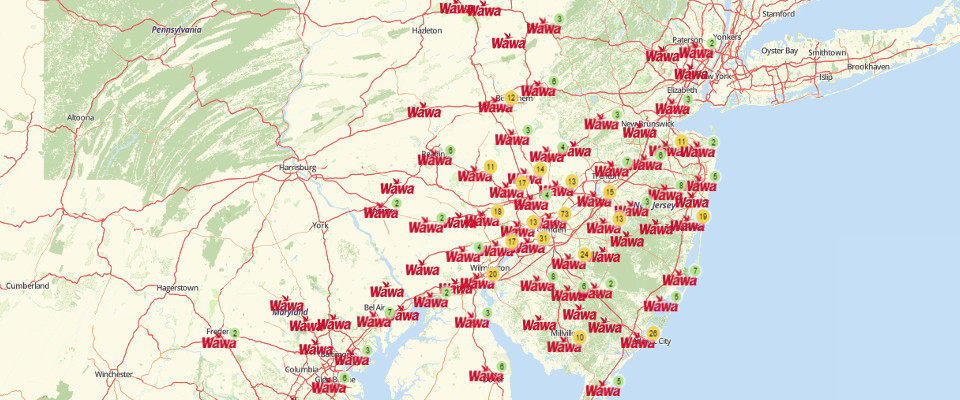 That's not all! Make your data do the talking by adding more features. Try showing the labels or cluster the pins. These are perfect for map presentations. For more in-depth analysis, create a heat map to know the location density or the sum or average of sales. Meanwhile, adding coverage overlay is always helpful if you want to know the network coverage of different service areas.
Why scrape the internet for all Wawa store locations when we can give you the data instantly? Want to map more location datasets? We have more than 4 million locations for you!