Create a Map of Babies R Us Locations
With Mapline,it only takes a minute to create a map of all Babies R Us stores. Because it provided a ready dataset,users will only need to plot the locations (all 225 of them) and there you go! A map showing all the company retail stores.
Retail store mapping is essential to companies for business growth. Through mapping, they are able to plan their sales and marketing strategy, have a lasting relationship with their existing customers, and reach out to new market. How will you achieve that? Simply by following these steps:

Steps to Create a Map of Babies R Us Locations
1. Create a Mapline account and login.
2. Click "New Map" to create a new map.
3. Give your map a name and click "Create Map."
4. Click the orange "Add Data Layers" button from the left sidebar.
5. Select the "Add Pins from Mapline Data" option.
6. Now you will see a list of all the datasets (spreadsheets).
7. Using the Search Box, select "Babies 'R' Us" as your dataset.
8. Click "Done."
After you map all Babies R Us stores, try customizing the pins by downloading a company logo and make it as your map pin. See how awesome your map would look like?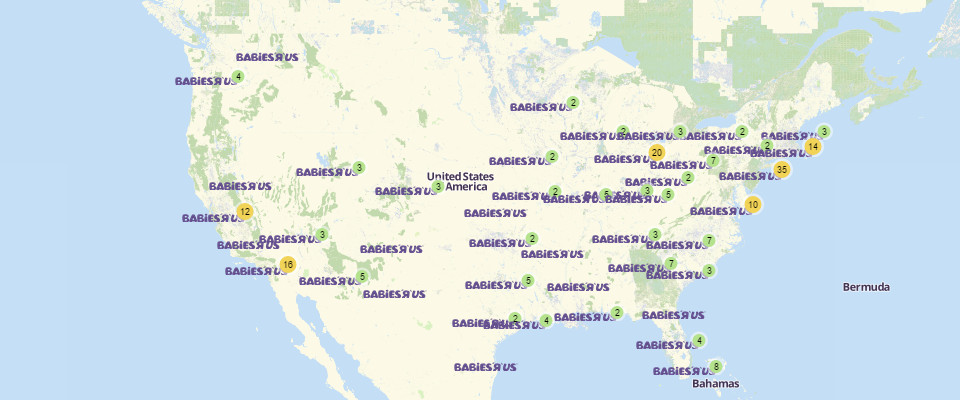 Map Your Way to Business Growth
Achieve your business growth in half the time with the help of map visuals. Your map works wonders as you use different features to intensify the data visualization for quicker and deeper analysis. Create a map of all Babies R Us stores and customize the pins so the map will show color-coded pins, each represented by a sales manager. Add territory boundaries to identify the areas covered by a certain store. Label the territory sets to let you know of which areas belong to a certain sales team. Dig in deeper on your analysis as you create a heat map of risk recovery and management.
Make Mapline your partner in business growth as you map datasets easily without the hassle of hiring an intern to scrape the web for locations data. Browse from this list of more than 5,000 companies and over 4 million datasets.