Create a Strikingly Attractive Map of Kangaroo Express Locations
There is an easier way to map Kangaroo Express locations than going to the internet and search the locations one by one. Mapline has a ready dataset for all the locations of Kangaroo Express. Kangaroo Express is operated by The Pantry, Inc. which has the headquarters located in Cary, North Carolina. The Pantry was founded in 1967 by Sam Wornom and Truby Proctor, Jr. Since then, the company rose in popularity as the largest convenience store chains in the USA. It is also nationally known as the leading independently operated chain in the Southeastern region of the US. There are now over 1,5oo stores scattered throughout Alabama, Florida, Georgia, Indiana, Kansas, Kentucky, Louisiana, Mississippi, Missouri, North Carolina, South Carolina, Tennessee, and Virginia.
With Mapline, map all Kangaroo Express locations on the fly. With just a few clicks of a button, Mapline makes it the easiest for you to map even thousands of locations!


Steps to Create a Map of Kangaroo Express Locations
Create a Mapline account and login.
Click "New Map" to create a new map.
Give your map a name and click "Create Map."
Click the orange "Add Data Layers" button from the left sidebar.
Select the "Add Pins from Mapline Data" option.
Now you will see a list of all the datasets (spreadsheets).
Using the Search Box, select "Kangaroo Express" as your dataset.
Click "Done."
When you have added the dataset, make your map strikingly attractive by customizing your map pin. It's so easy! Just upload a Kangaroo Express logo and in just a few clicks, your map will turn out to be like this: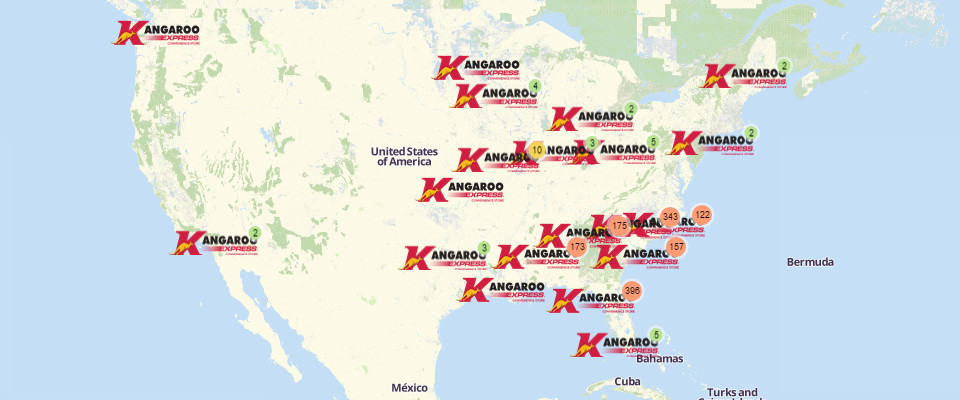 Own the power of map storytelling by adding more features. You may want to try some of these:
Don't be hard on yourself. Use Mapline-provided datasets to map your needed locations in a snap! Choose from any of the 5,000 plus companies on the list. Sign up now to create a Kangaroo Express locations map.