Easier and Better Mapping of Baker's Locations with Mapline
Looking for an easier way to map Baker's locations? Map it with Mapline! Baker's, a subsidiary of The Kroger Company, is a supermarket chain in Nebraska. It was in 1927 when Abraham Baker, the founder of Baker's, opened his first grocery store in Walnut, Iowa. 20 years after, he opened his first Omaha-based store in Bellevue, Nebraska. The Kroger Company acquired the Baker's stores in 2001. Today, Baker's is under the Dillons division, which operates under different banners including Dillons and Gerbes.
Create a map of Baker's locations with just a few clicks of a button.


Steps to Create a Map of Baker's Locations
Create a Mapline account and login.
Click "New Map" to create a new map.
Give your map a name and click "Create Map."
Click the orange "Add Data Layers" button from the left sidebar.
Select the "Add Pins from Mapline Data" option.
Now you will see a list of all the datasets (spreadsheets).
Using the Search Box, select "Baker's" as your dataset.
Click "Done."
That's all it takes to add the Baker's dataset and learn to customize your map pin and turn it into a Baker's logo like the map shown below: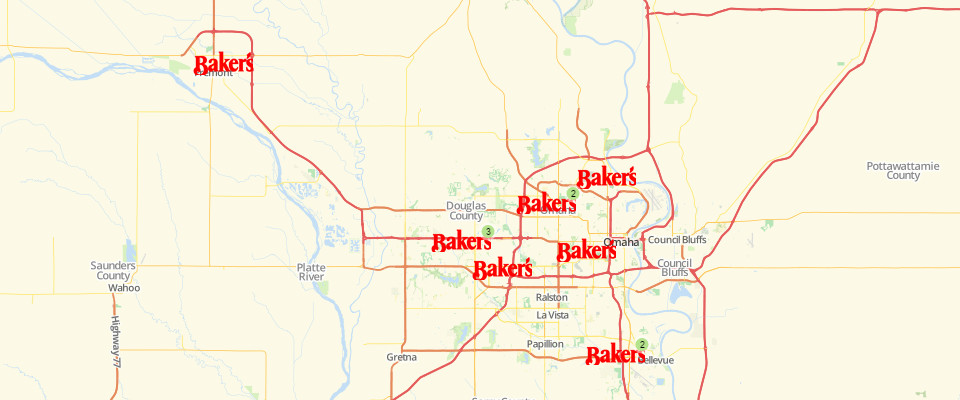 Aside from Baker's, there are more than 5,000 companies and over 4 million locations that you may want to map for a simpler, easier and better mapping.  Once you have your map, try out different features that you will find beneficial in data visualization and analysis like heat mapping, clustering pins, showing labels and adding coverage overlay. You want the simplest feature? Here it is. Click any map icon on your map and you will be shown a bubble indicating the summary information of that specific location. In that way, it will be more convenient for you to view the name, address, contact number and the hours of operation of each location.
Looking for other datasets of companies to map? We got more than 5,000 companies' datasets! Sign up now to create a Baker's locations map.