The Easiest Steps to Make a Map of ConocoPhillips Gas Stations
Are you still looking to hire an intern to scrape the web for you just to get all the locations of ConocoPhillips gas stations? Your trouble ends here right now! Let Mapline do it for you. How? We have a dataset of locations for ConocoPhillips. ConocoPhillips is a multinational energy corporation in the USA. The headquarters are located in Houston, Texas. It is the largest independent pure-play exploration and production company in the world. ConocoPhillips is a product of a merger between 2 giant oil companies: Conoco Inc. and Phillips Petroleum Co. It has a separate company called Phillips 66 which manages its downstream assets.


Here are the easiest steps to create a map of ConocoPhillips gas stations. Using Mapline, show all ConocoPhillips gas stations on your map.
Steps to Create a Map of ConocoPhillips Gas Stations
Create a Mapline account and login.
Click "New Map" to create a new map.
Give your map a name and click "Create Map."
Click the orange "Add Data Layers" button from the left sidebar.
Select the "Add Pins from Mapline Data" option.
Now you will see a list of all the datasets (spreadsheets).
Using the Search Box, select "ConocoPhillips" as your dataset.
Click "Done."
On the left sidebar beside the dataset, you can play around different features to make your map look even better than it already is. First, try customizing the map pin. Upload a logo of ConocoPhillips and turn it into your marker in few easy clicks.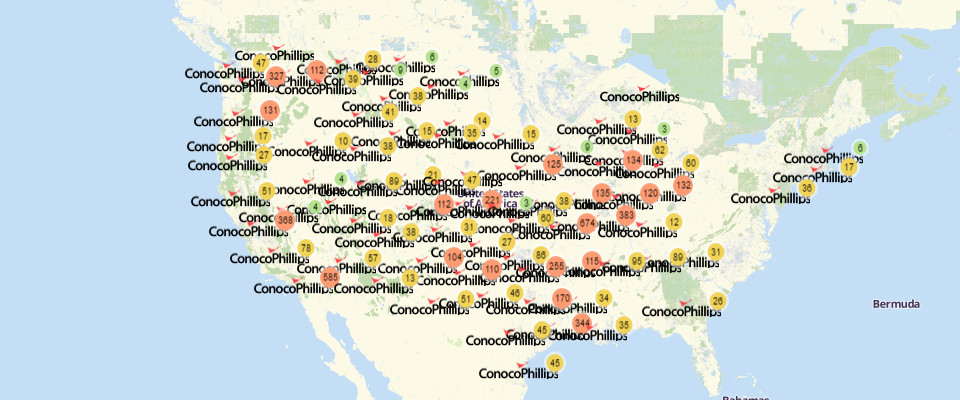 Or you can add other features that will add value to your map. Try these options:
Filter your data – for analyzing data by category or sub-category.
Show labels – for adding impact to map presentations.
Add territory boundaries – for territory mapping.
When Mapline is used, there's no need to hire an intern to scrape the internet for locations data. We have the datasets, you can just browse here for the name of the company you are looking for. We may have it on our list of over 5,000 companies. Sign up now to create a ConocoPhillips gas stations map.