Easy Steps on Building a Map of Esso Gas Stations
Mapping thousands of locations of Esso gas stations poses a great threat when it comes to time management. But with Mapline, mapping it takes only a minute… maybe even less! Esso is the trade name for ExxonMobil and its related companies. It was one of the 34 companies established after Standard Oil was dissolved in 1911. The name "Esso" came from the phonetic pronunciation of the letters "S" and "O" (for Standard Oil). Gas stations are located in Arkansas, Delaware, Pennsylvania, Louisiana, and Tennessee.
Using Mapline, you can easily create a map of Esso gas stations. With just a few clicks of a button, Mapline makes it the easiest for you to map thousands of locations! There are over 7,000 Esso gas stations in the USA to map.


Steps to Create a Map of Esso Gas Stations
Create a Mapline account and login.
Click "New Map" to create a new map.
Give your map a name and click "Create Map."
Click the orange "Add Data Layers" button from the left sidebar.
Select the "Add Pins from Mapline Data" option.
Now you will see a list of all the datasets (spreadsheets).
Using the Search Box, select "Esso" as your dataset.
Click "Done."
Make your map shout out with Esso as you upload the company logo and make it as your map icon.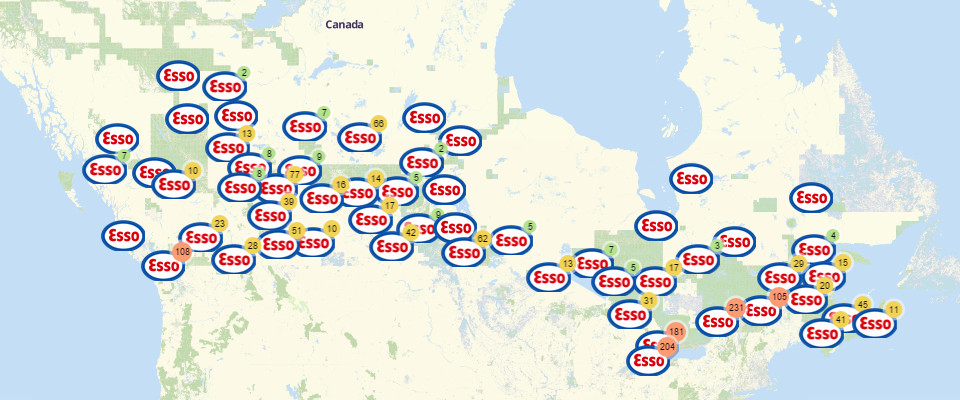 Your map will look more organized when you cluster the pins. Try playing around some different features and you'll see just how far the map visualization will take you! Create heat maps to identify location density. Add territory boundaries to manage your staff better. Filter your map so you can view the locations depending on their distinct characteristics.
No need to take a huge amount of time just scraping the internet for locations data. We got this for you! Check out other companies (we have over 5,000 companies and their locations datasets) to choose from. Sign up now to create an Esso gas stations map.