Here's The Fastest Way to Map Ria Money Transfer Locations
Trying to map thousands of locations can be tiresome. To save you effort and time, Mapline offers datasets of company locations. Most of these datasets contain thousands of addresses. Take for instance mapping Ria Money Transfer locations. Ria Money Transfer is the 3rd largest money transfer service in the world. The company was founded in 1987 by Jesus Perez Santalla, a Cuban national who came to New York and opened a single storefront. He aimed to help immigrants to send money back home. Today, there are over 310,000 locations of Ria scattered in 150 countries.
Mapline tools are designed to easily create a map of Ria Money Transfer locations in just a few clicks of a button. Start following these steps today.


Steps to Create a Map of Ria Money Transfer Locations
Create a Mapline account and login.
Click the orange "Add Data Layers" button from the left sidebar.
Click "New Map" to create a new map.
Give your map a name and click "Create Map."
Select the "Add Pins from Mapline Data" option.
Now you will see a list of all the datasets (spreadsheets).
Using the Search Box, select "Ria Money Transfer" as your dataset.
Click "Done."
Another good thing about mapping with us is that Mapline tools are not just designed to help you build a map. They are designed to ignite ideas to make empowering map visualizations. Try adding a logo of Ria Money Transfer and turn it as your map icon. Your map will look more presentable.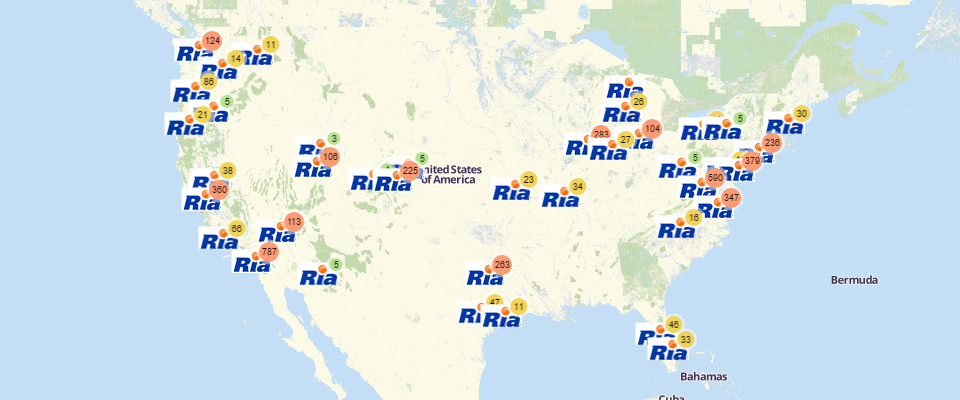 Not only are Mapline tools easy to use but they also add value to data analysis. For instance add multiple datasets of locations to learn about significant connections between different layers. Use the distance calculator so you would know the distance between locations from different data sets. Then you can download a copy of spreadsheet showing the distance between your datasets. The draw pad tool is very valuable as it helps you draw customized territories. Once you click inside your territory, you would know the number of locations, the midpoint and the center of minimum distance.
Make your mapping fast and easy. Do it with Mapline! We have ready datasets of 4,700 companies and still counting. Sign up now to create a map of Ria Money Transfer locations.