Gerbes Grocery Stores Map – Available in Just a Few Clicks!
Gerbes grocery stores is now easier to map with Mapline. Gerbes Super Markets, a subsidiary of The Kroger Company, is a grocery supermarket which operates in central Missouri particularly in Columbia, Missouri, and Jefferson Cities. The store was founded by Frank J. Gerbes in 1933 in Tipton, Missouri. In 1966, the company merged with the Dillon Companies. In 1983, Dillon was acquired by The Kroger Company. Other subsidiaries include Baker's, City Market, Fry's, King Soopers, and Kwik Shop.
By using Mapline, a map of Gerbes grocery stores will be available for you in just a few clicks of a button!


Steps to Create a Map of Gerbes Grocery Stores
Create a Mapline account and login.
Click "New Map" to create a new map.
Give your map a name and click "Create Map."
Click the orange "Add Data Layers" button from the left sidebar.
Select the "Add Pins from Mapline Data" option.
Now you will see a list of all the datasets (spreadsheets).
Using the Search Box, select "Gerbes Super Markets" as your dataset.
Click "Done."
You also have an option to upload a Gerbes logo and turn it into your map pin like the map shown below: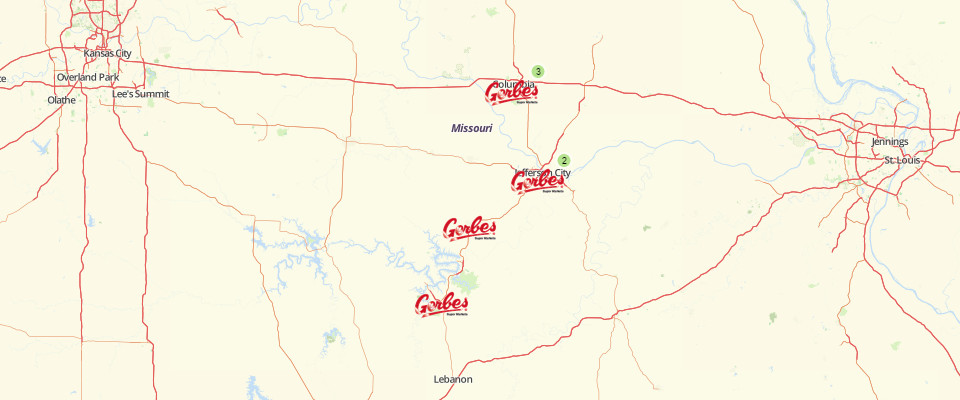 There are a lot of mapping features that you can use to enhance your mapping experience and make your map presentations shout alive! We suggest you take a minute or two and try creating heat maps, clustering pins, showing labels, and adding coverage overlay. You will also notice that once you click any map pin on your map, a bubble will appear showing the see summary information of that location. See for yourself how cool it is! In just a click, you would know the name, address, phone number, and hours of operation of that particular location.
Have we told you that we have 5,000 plus companies and over 4 million locations worldwide available for you to map? Sign up now to create a Gerbes grocery stores map.