How to Build a BF Goodrich Locations Map in Minutes
There is an easiest way to create a BF Goodrich locations map with Mapline. BF Goodrich Tires is founded in 1870 by Dr. Benjamin Franklin Goodrich. At first it manufactured rubberized hoses for fire hoses, rubberized belts, serpentine belts, bicycle tires, and pneumatic automobile tires. BF Goodrich became widely popular as it developed the 1st tubeless tire in 1947; the 1st radial tires in 1965; and the run-flat tire in 1967.
Using Mapline, you can easily create a map of BF Goodrich Tires locations. With just a few clicks of a button, create a map of a list of more than 18,000 BF Goodrich locations in the USA.


Steps to Create a BF Goodrich Locations Map
Create a Mapline account and login.
Click the orange "Add Data Layers" button from the left sidebar.
Click "New Map" to create a new map.
Give your map a name and click "Create Map."
Select the "Add Pins from Mapline Data" option.
Now you will see a list of all the datasets (spreadsheets).
Using the Search Box, select "BF Goodrich" as your dataset.
Click "Done."
Just a few clicks and there you have it – a list of BF Goodrich locations in a map! You can also upload an image of BF Goodrich to use as map pins. Map visuals with custom images for map pins can make a powerful presentation.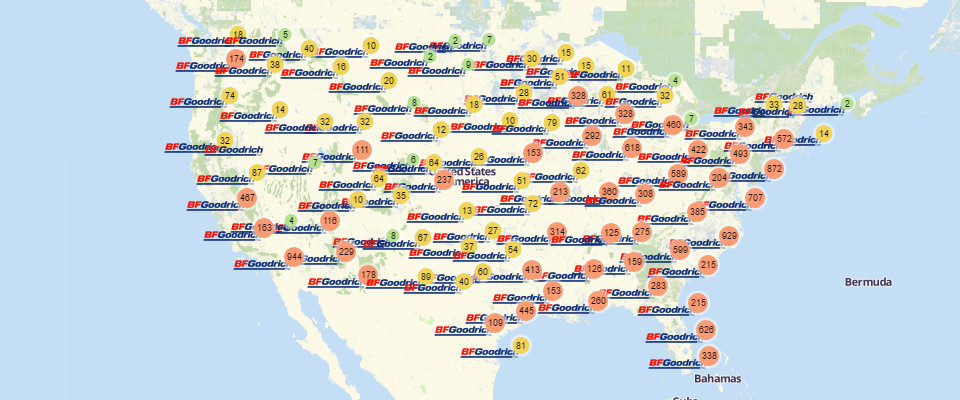 There's so much more that you can do once you have your map. Sales territories is made more effective using hundreds of territory sets by county, state, or zip code. Or you can try creating heatmaps by location density, sum or average of data. Just a glimpse of your map, you can get an idea where the areas that generate more business and those that have the least performance are located. Here's another good part: you can add multiple datasets and perform market analysis.
Enjoy creating new maps every day! Here is a list of datasets that we have from more than 5,000 companies. Sign up now to create a BF Goodrich Locations Map.