Map Stop and Shop Locations with Mapline
Easily Generate a Stop and Shop Supermarket Map
Mapping is difficult if you don't have a spreadsheet of data locations that you want to map. Good thing Mapline has spreadsheets of thousands of companies – one of them may be exactly what you've been looking for! For instance, we have Stop and Shop locations available. Stop and Shop is a chain of supermarkets located in the northeastern part of USA. The company currently operates almost 400 stores scattered throughout New England, New Jersey, and New York.
Mapping is now made easy with Mapline-provided datasets! Start mapping millions of locations from thousands of companies to get the full benefits of retail store mapping!


Steps to Create a Map of Stop & Shop Locations
Create a Mapline account and login.
Click "New Map" to create a new map.
Give your map a name and click "Create Map."
Click the orange "Add Data Layers" button from the left sidebar.
Select the "Add Pins from Mapline Data" option.
Now you will see a list of all the datasets (spreadsheets).
Using the Search Box, select "Stop & Shop" as your dataset.
Click "Done."
Just 8 easy steps and you have created your map of Stop and Shop locations! You can make your map look even better by customizing your pins. How? Just upload a logo of Stop and Shop and choose it as your map pin icon.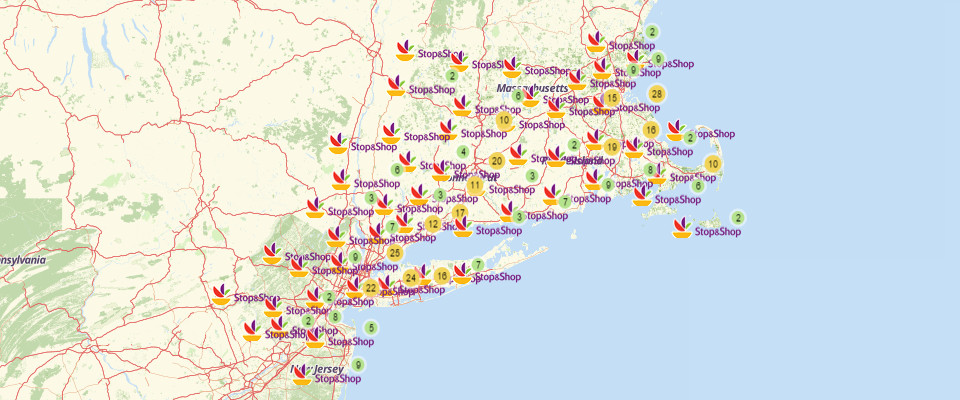 There's Even More You Can Do with Your Stop and Shop Locations Map
You know what's even cooler? Play around different features and you're on to something much bigger, that is, bigger presentation, better analysis. Use the draw pad feature to draw customized territories. Cluster the pins to make the pins look more organized. Filter the map pins so the map would only show the pins according to their unique characteristics.
Do away with time-consuming task of scraping the internet for locations data. Mapline is here to provide you with location datasets of more than 5,000 companies! Visit our plans and pricing page and see what's possible.