Ignite Your Mapping Prowess as You Build a Map of Copps Food Center Locations
We got the spreadsheets of the locations of the 4 banners of Roundy's for you: Copps, Pick 'n Save, Mariano's and Metro Market. Copps Food Center was started in 1892 in Stevens Point, Wisconsin by the Copps family. The store originally sells food, grain and other items. It was incorporated in 1912 under family ownership. Almost a century after, Roundy's acquired the company. Of the 4 banners, Copps is more confined in North Eastern and North Central parts of Wisconsin.
Using Mapline, access to the dataset of Copps Food Center locations and easily create a map of it!


Steps to Create a Map of Copps Food Center Locations
Create a Mapline account and login.
Click "New Map" to create a new map.
Give your map a name and click "Create Map."
Click the orange "Add Data Layers" button from the left sidebar.
Select the "Add Pins from Mapline Data" option.
Now you will see a list of all the datasets (spreadsheets).
Using the Search Box, select "Copps" as your dataset.
Click "Done."
Here's what you Copps Food Center map would look like after adding the dataset. You may also find customizing the map pins a great feature to use.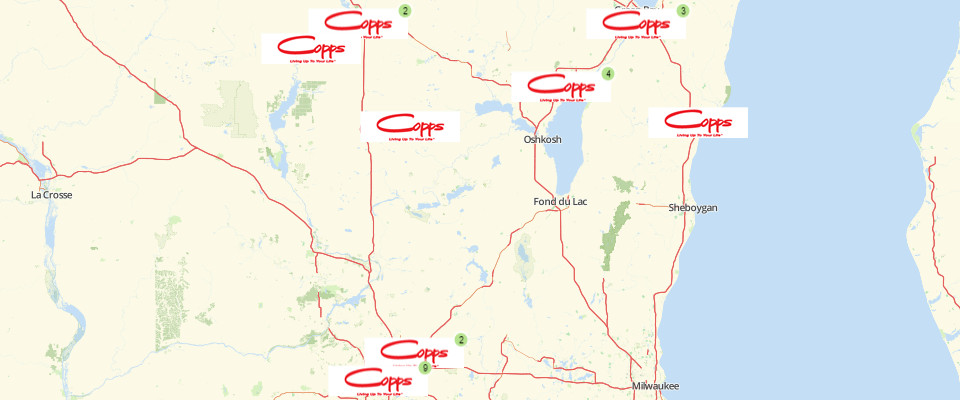 Here are other options that will help you ignite your mapping prowess. You may find clustering the pins very useful especially when mapping hundreds (or thousands!) of icons. Create heat maps if you want to know the location density of the area, or add coverage overlay for more in depth data analysis. Click any icon from your map to show the bubble so you can easily access the summary information of that location.
With just a few clicks, you map is ready to use and be presented! Click here for the complete list of more than 5,000 companies' datasets we have for you! Sign up now to create a Copps Food Center locations map.