Learn More From a Map of Pick 'n Save Locations
For those of you who are looking for Pick 'n Save locations, here's a great news: Mapline has a data set of all the Pick 'n Save locations! Pick 'n Save is a premier supermarket chain operating in the state of Wisconsin. The first store was opened on March 25, 1975. There are now 93 stores serving across Wisconsin. Pick 'n Save is one of the 4 banners of Roundy's – a retail grocery company in Milwaukee, Wisconsin. Other banners include Copps, Metro Market, and Mariano's. On December 18, 2015, Roundy's merged with The Kroger Company.
We bring you the spreadsheet so you can easily map Pick 'n Save locations in just a few clicks!


Steps to Create a Map of Pick 'n Save Locations
Create a Mapline account and login.
Click "New Map" to create a new map.
Give your map a name and click "Create Map."
Click the orange "Add Data Layers" button from the left sidebar.
Select the "Add Pins from Mapline Data" option.
Now you will see a list of all the datasets (spreadsheets).
Using the Search Box, select "Pick 'n Save" as your dataset.
Click "Done."
By uploading a Pick 'n Save logo, you can customize your map pins like this: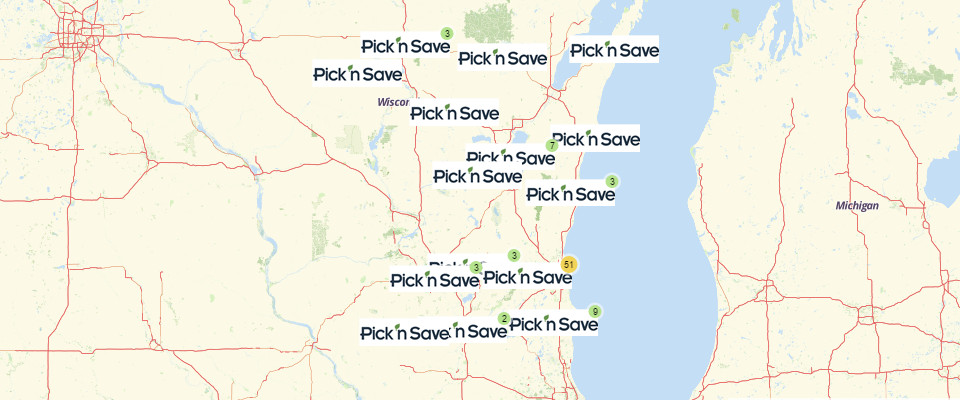 Why go through the hassle of scraping the internet for Pick 'n Save locations when you can map them in less than a minute? You'll be surprised to learn that there are more mapping features in store for you to make you and your map look good! Try any of these mapping options to add:
Another feature that you will find very useful is the bubble. By clicking a map icon, an information will show up telling you everything that is to know about that location including the name of the store, the address, the store number, contact number and the hours of operation. Click here to browse from more 4 million locations and 5,000 companies worldwide! Sign up now to create a Pick 'n Save locations map.