Learn New Ideas From Creating a Map of Cabot Stain Locations
Maps help you learn new ideas from your locations data. What if you have thousands of data sitting in your spreadsheet? How long does it take for you to understand the connections between locations? How long does it take you to map thousands of locations? Mapline provides the easiest map-making tools. Map thousands of locations data in just a few minutes. Let's take one example.
Cabot Stain locations has more than 13,000 locations. In a manner of minutes, you will not only get to show your map but you can learn new ideas as well. Cabot Stain was founded in 1877 by Samuel Cabot, then a 27-year old chemist, when he started a coal-tar dye business. Its headquarters are located in Newburyport, Massachusetts. In 2005, Valspar Corporation completed the acquisition of the company.


Here are the easy steps to start mapping:
Steps to Create a Map of Cabot Stain Locations
Create a Mapline account and login.
Click the orange "Add Data Layers" button from the left sidebar.
Click "New Map" to create a new map.
Give your map a name and click "Create Map."
Select the "Add Pins from Mapline Data" option.
Now you will see a list of all the datasets (spreadsheets).
Using the Search Box, select "Cabot" as your dataset.
Click "Done."
Your mapping journey does not need to end there. Mapline has the easiest tools for you to make your map look good and easier to understand. Try adding custom images. The map below shows how a Cabot Stain logo can be your map pin.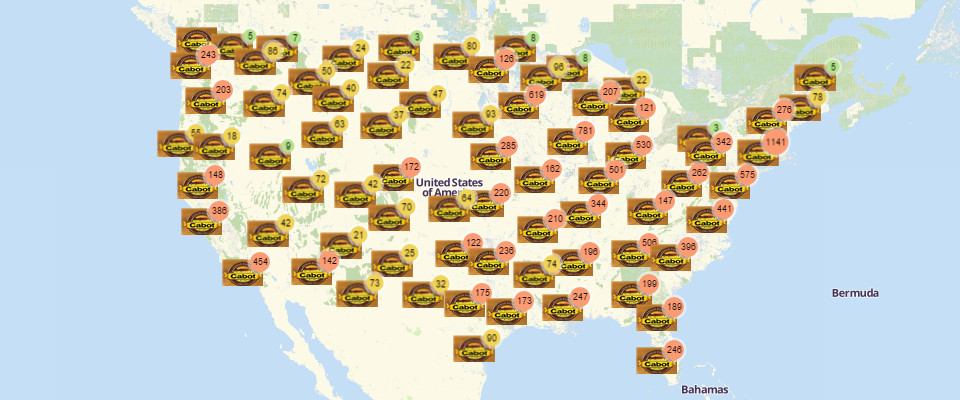 Creating a heat map is another way to learn from your data. It is a rich source of competitive intelligence. As you map your competitors' data, you can identify their projects and products, understand new trends, and potential market segments for sales. Creating a radius map help define target market by location as it reveal ideas for new business opportunities. You can even add multiple datasets to your map. Studying the patterns and connections with each other can provide insights for a more comprehensive business planning.
Mapline has a long range of companies' data ready to be mapped. Sign up now to create a map of Cabot Stain locations.