Let an Albertsons Locations Map Empowers You
How an Albertsons Locations Map Empowers
When you map address locations, say, Albertsons locations, you can create an awesome data visualization that tells stories. With Mapline, we provide data sets of companies' locations and among our list is Albertsons. Albertsons is a grocery company based in Boise, Idaho. It was founded by Joe Albertson in 1939. The company owns different store brands like A+, Good Day, Janet Lee, Jewel, Master's Choice, and Village Market. It marked the history in convenience stores acquisitions when it acquired Safeway Inc. in January 2015.
Using Mapline, create a map of Albertsons locations that tells a story! With just a few clicks, start mapping all Albertsons locations in the USA!


Steps to Create an Albertsons Locations Map
Create a Mapline account and login.
Click "New Map" to create a new map.
Give your map a name and click "Create Map."
Click the orange "Add Data Layers" button from the left sidebar.
Select the "Add Pins from Mapline Data" option.
Now you will see a list of all the datasets (spreadsheets).
Using the Search Box, select "Albertsons" as your dataset.
Click "Done."
Your map can tell a story of its own. Start by uploading an Albertsons logo and make it your pin map just like this map: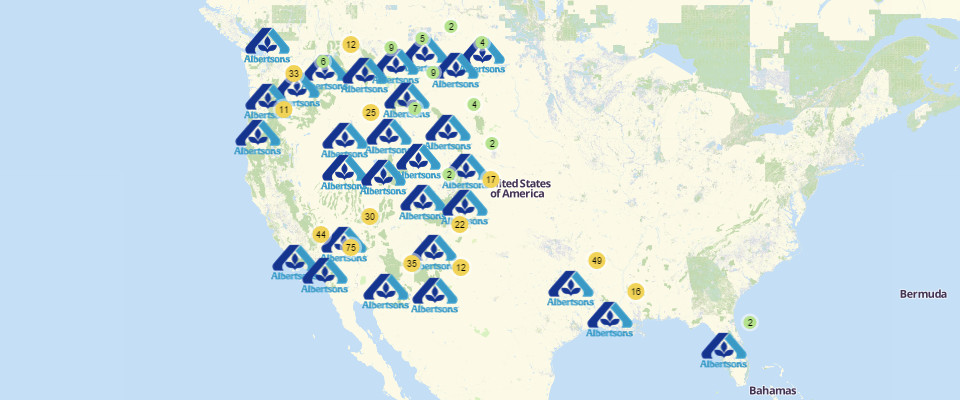 Then, try adding simple map features that can be found at the drop down arrow beside the dataset. You'll be surprised how your map reveals connections that may be hidden between rows and columns of the spreadsheet data. There's the heat map option to map potential risks or understand the competition. You can measure the distance between locations to identify new market. You can simply add labels for each pin all at the same time or show the bubble when you click any pin to show the information pertaining to that particular location.
The next dataset of address locations that you're looking for may be found here. Choose from the list of more than 5,000 companies' datasets. Sign up now to create an Albertsons locations map.