Make a Giant Step of Mapping Giant Eagle Locations
How can you map hundreds of Giant Eagle locations when you don't have a spreadsheet of locations? With Mapline, datasets of companies is not a problem. We have the spreadsheet if you have a minute of your time to map! Giant Eagle is a chain of supermarket in the USA. The stores are scattered in the states of Indiana, Maryland, Ohio, Pennsylvania, and West Virginia. Founded in 1918 in Pennsylvania and incorporated in 1933, Giant Eagle is the 49th largest retailer in the USA. The company operates more than 400 stores and runs almost 200 gasoline stations and convenience stores under the "GetGo" banner.
With a ready spreadsheet, speed up mapping all Giant Eagle locations!


Steps to Create a Map of Giant Eagle Locations
Create a Mapline account and login.
Click "New Map" to create a new map.
Give your map a name and click "Create Map."
Click the orange "Add Data Layers" button from the left sidebar.
Select the "Add Pins from Mapline Data" option.
Now you will see a list of all the datasets (spreadsheets).
Using the Search Box, select "Giant Eagle" as your dataset.
Click "Done."
Creating a map is a journey of discovering new information that may be hidden away from the spreadsheet. So make your map look better by uploading a logo of Giant Eagle and then choose it as your new map pin icon.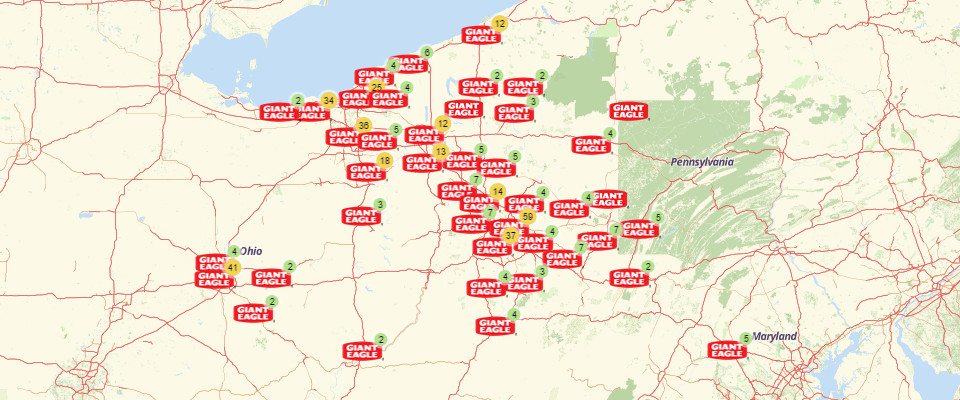 Let your map scream out with new information and connections as you add more features to your map. You'll be surprised to learn just how valuable these features are when added to your map. For instance, with a few clicks, you can show the labels of each pin or show the bubble of a specific map pin to understand the location's description. As you dig deeper with your data analysis, you'll find out how helpful creating a heat map or measuring distances between locations will be.
Mapping hundreds, even thousands of locations is no longer a problem with Mapline's provided datasets. Which company locations do you need to map next? Browse from our list of more than 5,000 companies. Sign up now to create a Giant Eagle locations map.