Make a Map of FedEx Locations This Easy!
There is an easiest way to map FedEx locations with Mapline. FedEx Corporation is a company engaged in courier delivery services globally. Its headquarters are located in Memphis, Tennessee, USA. The company's original name was "Federal Express" which was used from 1973 – 2000.  Its overnight shipping services put FedEx a mark on the international business. It also pioneered in tracking packages and providing real-time updates on the locations of the packages.


With Mapline, mapping all locations of FedEx in the USA can be done in minutes. Here's how:
Steps to Create a Map of FedEx Locations
Create a Mapline account and login.
Click the orange "Add Data Layers" button from the left sidebar.
Click "New Map" to create a new map.
Give your map a name and click "Create Map."
Select the "Add Pins from Mapline Data" option.
Now you will see a list of all the datasets (spreadsheets).
Using the Search Box, select "FedEx" as your dataset.
Click "Done."
Creating a map is just the beginning of the many more data stories to tell. To make your map look even better, why not upload a logo of FedEx and use it as your pin icon just like the map below: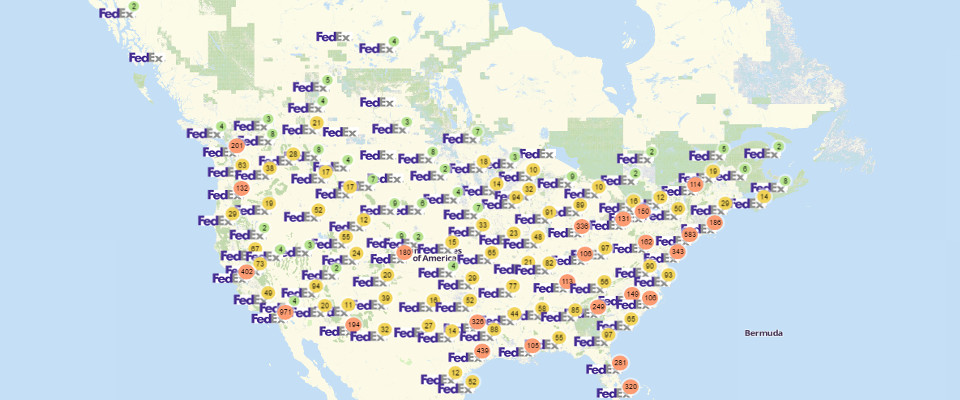 In a matter of minutes, you now have a map showing all the locations of FedEx. But don't just stop there. Here are some ways were you can use your map:
Show labels to distinguish locations. This feature is used to enhance presentations or for embedding maps on a website.
Take advantage of the bubble. It's the information that appears when you click on any map pin. It contains the location-specific information of the map pin.
Use sub-layers. Group your pins according to any column from your spreadsheet. Then assign them with different map pin colors.
Mapline is the home of easy data mapping. Click here to find out thousands of datasets and more than 4 million locations from over 5,000 companies worldwide. Sign up now to create a map of FedEx Locations.