Make a Unique Map of Casey's General Store Locations
There are almost 2,000 Casey's General Stores in the USA. If you're going to search on the internet and collate all their locations in a spreadsheet, how many days will you spend? Good thing Mapline provides a dataset of locations for Casey's stores! Casey's General Stores is a chain of convenience stores scattered in the Midwestern region of the USA. The stores are scattered around the states of Iowa, Illinois, Indiana, Kansas, Minnesota, Missouri, Nebraska, North Dakota, Oklahoma, and South Dakota. Its headquarters are in Ankeny, Iowa. The company was founded by Donald Lamberti in 1959. Since then, the success continues and the number of stores continue to grow to more than 1,900.
With just a few clicks of a button, Mapline makes it the easiest for you to map thousands of locations! There are more than 1,900 Casey's General Stores in the USA to map.


Steps to Create a Map of Casey's General Store Locations
Create a Mapline account and login.
Click "New Map" to create a new map.
Give your map a name and click "Create Map."
Click the orange "Add Data Layers" button from the left sidebar.
Select the "Add Pins from Mapline Data" option.
Now you will see a list of all the datasets (spreadsheets).
Using the Search Box, select "Casey's General Stores" as your dataset.
Click "Done."
What will make your map look more unique is when you customize your map pin. Upload a Casey's logo and turn it as your map icon. Your map will look a lot like this: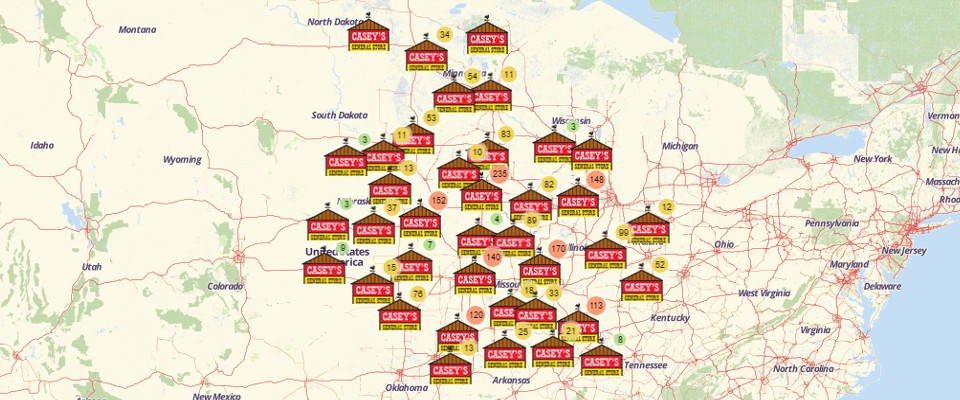 A good data visualization can tell a story that no words can tell. After adding your dataset, use some mapping features that will make your story telling have more impact. To being with, click on any pin to see the location-specific information. All the information mirrored in the bubble came directly from the spreadsheet. Also, try using the sublayers. Group your pins according to any column from your spreadsheet (by sales, city, hours of operation, etc.). If you want to see the store locations according to their distinct characteristics, filter your map and then show or hide the pins in just one click.
Looking for datasets of companies to map? Search from our list of more than 5,000 companies. We may have the dataset that you're looking for!  Sign up now to create a Casey's General Stores map.