Make an Impressive IGA Stores Map
Creating a list of all the locations of IGA stores (Independent Group Alliance) and mapping them is such a daunting task – one that may rob you of hours that you should be spending in a more important task. But there's a super easy way to do it with the use of Mapline. IGA is a brand of grocery stores that operates globally. IGA was founded in May 1926. J. Frank Grimes organized a group of 100 independent retailers and  organized themselves into a single marketing system. The small group quickly expanded until now. Today, there are more than a thousand grocery stores using the IGA name.
Mapline has the location dataset of IGA locations. Follow these steps and you're into building a map of IGA stores in just a couple of minutes.


Steps to Create a Map of IGA Stores
Create a Mapline account and login.
Click "New Map" to create a new map.
Give your map a name and click "Create Map."
Click the orange "Add Data Layers" button from the left sidebar.
Select the "Add Pins from Mapline Data" option.
Now you will see a list of all the datasets (spreadsheets).
Using the Search Box, select "IGA (Independent Grocers Alliance)" as your dataset.
Click "Done."
Just like that and your map is ready to view! Now try to customize the pins to give you that more unique look.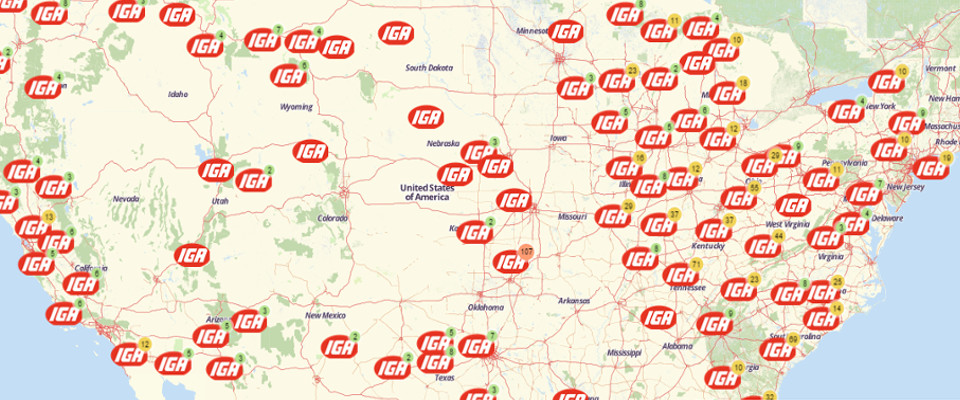 Get ready for an impressive map presentation by using some Mapline features. Choose any options from the drop down button beside the dataset. To make your pins look more organized, cluster them. Show labels to make the pins more identifiable. What's more, you can select which to label on any column provided by the spreadsheet. You can also click on a pin to make the bubble appear to give you the spreadsheet details of that location.
Why waste hours of your time when you can have the location dataset of IGA to map? We have data locations of more than 5,000 companies – that means more than 4 million locations that you can map! Sign up now to create an IGA Stores map.