Make Your Map of Loaf 'N Jug Locations Shout Alive
It is super easy to map Loaf 'N Jug locations with Mapline. Once started, you'll have a finished map in seconds! Loaf 'N Jug is a chain of convenience stores headquartered in Pueblo, Colorado. It was founded by 5 businessmen from southern Colorado. In 1986 Loaf 'N Jug was purchased by The Kroger Company. 20 years after in 2006, the company was re-imaged under a common logo along with other convenience store brands acquired by Kroger including Kwik Shop, Quik Stop, Tom Thumb, and Turkey Hill.
Using Mapline, you can easily create a map of Loaf 'n Jug locations. Map Loaf 'N Jug locations particularly in Colorado and Wyoming. Other stores are located in Montana, New Mexico, Nebraska, North Dakota, Oklahoma, and South Dakota.


Steps to Create a Map of Loaf 'N Jug Locations
Create a Mapline account and login.
Click "New Map" to create a new map.
Give your map a name and click "Create Map."
Click the orange "Add Data Layers" button from the left sidebar.
Select the "Add Pins from Mapline Data" option.
Now you will see a list of all the datasets (spreadsheets).
Using the Search Box, select "Loaf 'N Jug" as your dataset.
Click "Done."
To make your map look more unique, you can customize the pins and turn it into a Loaf 'N Jug logo. Your map would look like this: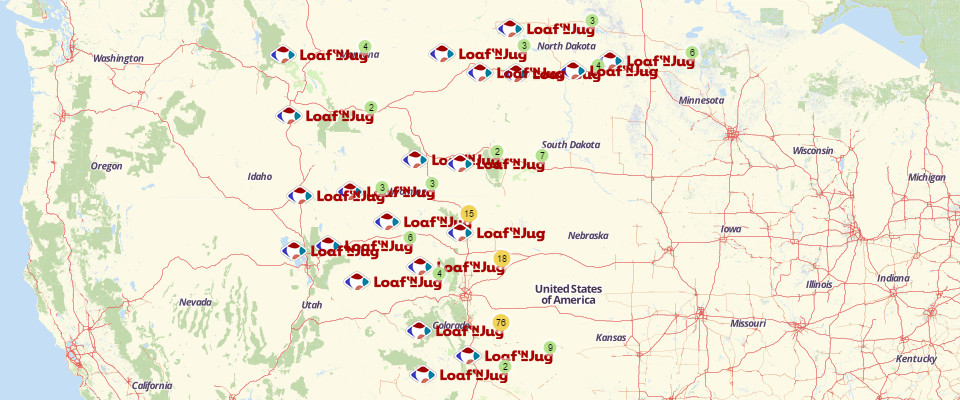 That's all it takes to create a Loaf 'N Jug locations map! Make your map shout alive by using more added features like measuring distance between locations for a better approach to target your market. Filter your map according to address locations' distinct characteristics. Click on any map pin to show the bubble. That will give you the spreadsheet details of that particular location like the address, store number, phone number, and others.
Be amazed to see Mapline-provided datasets of 4,700 plus companies! Sign up now to create a Loaf 'N Jug locations map.