Map of All 24 Hour Fitness Store Locations
Map of 24 Hour Fitness Locations in USA
24 hour fitness gyms are not only considered as physical fitness facilities. They are designed to make the members feel like they are in a friendly community where they can use the facilities ate their own pace as they set their goals toward fitness and health. A map of all 24 hour fitness store locations provides a clear visual on where 24 hour fitness locations in USA can be seen. To date, there are nearing 500 24 hour fitness gym locations located in different parts of the USA. A map at hand is a powerful tool that allows the users not only to access a bird's eye view of the locations. It provides connections, patterns, and distinctions that can be practically used for decision-making and business strategies.
24 hour fitness locations map brings an easy access to view how the largest fitness center chain in the world caters to its growing clients. With Mapline, creating a map of all 24 hour fitness store locations can be done in a few minutes.

Steps to Create a Map of all 24 hour Fitness Store Locations
Create a Mapline account and login.
Click "New Map" to create a new map.
Give your map a name and click "Create Map."
Click the orange "Add Data Layers" button from the left sidebar.
Select the "Add Pins from Mapline Data" option.
Now you will see a list of all the datasets (spreadsheets).
Using the Search Box, select "24 Hour Fitness" as your dataset.
Click "Done."
With a 24 hour fitness locations map that you created from Mapline, You can download the company logo and turn it as your map pin. Your map would look like this: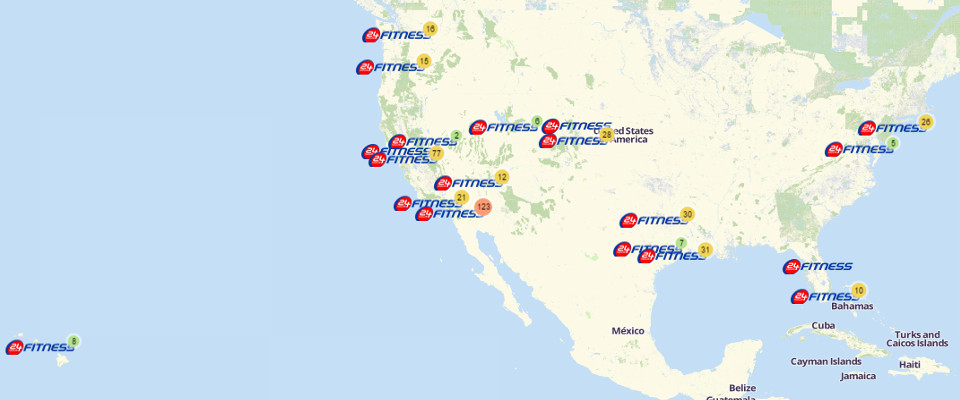 24 Hour Fitness Locations Map
Enhance your mapping experience as you play around other features like adding coverage overlay, clustering pins, creating heat maps, and showing labels. Click a location and a bubble will appear showing the summary information of that location including the name, address, hours of operation, and contact number. Check out our plans and pricing to get started and create a map of all 24 hour fitness store locations.