Map of All AAMCO Service Locations
Easily Create a Map of All AAMCO Service Locations
Would you spend countless hours scraping the internet for data mapping? Or would you rather use Mapline since we have the datasets of companies with hundreds of locations like all AAMCO service locations? With Mapline, it just takes a couple of minutes to create a store locator. Mapline tools are designed in a way that users can understand information in the easiest way through awesome data visualization.
There are 669 locations to start generating an AMMCO location map.

Steps to Create a Map of all AAMCO Service Locations
1. Create a Mapline account and login.
2. Click "New Map" to create a new map.
3. Give your map a name and click "Create Map."
4. Click the orange "Add Data Layers" button from the left sidebar.
5. Select the "Add Pins from Mapline Data" option.
6. Now you will see a list of all the datasets (spreadsheets).
7. Using the Search Box, select "AAMCO" as your dataset.
8. Click "Done."
Using Data Mapping Features for Customization and Analysis
To make a more impressing data mapping, use custom images for your pin. For example, upload an AAMCO logo and turn your pin like the AAMCO location map below: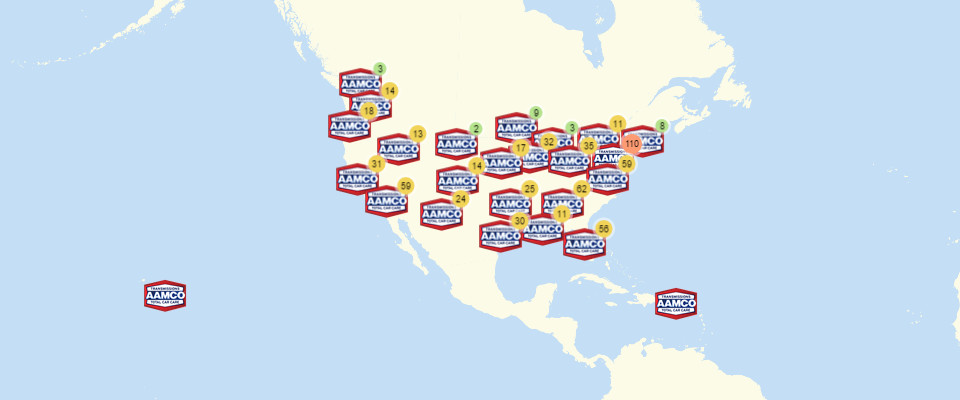 There are more features that can be used, helpful tools to make critical decision making. The ideas that can be identified using Mapline features can lead to actionable insights.  Enhance your data mapping even further by using other options. Add labels to distinguish your locations. This is especially helpful as you create a store locator. Add more locations like your competitors' locations, and other important landmarks to learn more about the competition. Filter your data to know the distinct characteristics of each locations. Finally, you can click on any pin to show the bubble. It serves like a cheat sheet of all the information in the spreadsheet.
You may want to check out other datasets that you may find helpful in your data mapping analysis. We have more than 5,000 companies and 4 million plus locations that you can choose from. Compare plans and pricing and get started now.