Map of Aaron Brothers Store Locations
Map a List of Aaron Brothers Store Locations
Company leaders and business owners trust only one mapping software when it comes to mapping. Mapline provides powerful tools that competitor mapping tools cannot equal. For one, we provide datasets of more than 5,000 companies. That includes all Aaron Brothers store locations. This means that users can just create a map of Aaron Brother stores in a zip!
This improved feature marks Mapline as a leading retail store mapping solution provider. Retail mapping is vital for exploring new business perspectives. Use it to map all Aaron Brothers store locations in less than a minute.

Steps to Create a Map of Aaron Brother Stores
1. Create a Mapline account and login.
2. Click "New Map" to create a new map.
3. Give your map a name and click "Create Map."
4. Click the orange "Add Data Layers" button from the left sidebar.
5. Select the "Add Pins from Mapline Data" option.
6. Now you will see a list of all the datasets (spreadsheets).
7. Using the Search Box, select "Aaron Brothers" as your dataset.
8. Click "Done."
Mapline provides other awesome retail store mapping solution like customizing your map pin. Just upload a logo of Aaron Brothers and make it as your map icon.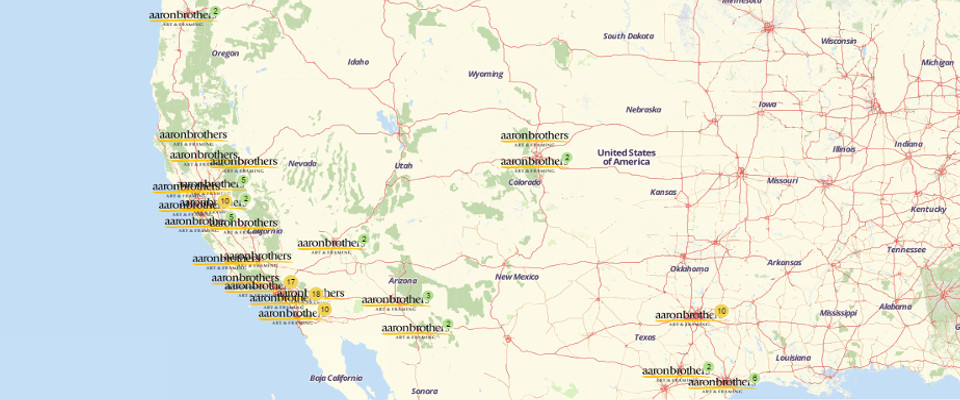 Use Aaron Brothers Store Locations with Mapline's Features
Mapline provides what competitor mapping tools offer – and more! The features are used to provide exceptional retail store mapping solution that cuts the mapping task in half. Play around other features like creating heat maps, clustering pins, showing labels, and adding coverage overlay. Click a location and a bubble will appear showing the summary information of that location.
Browse from our list of datasets and you'll be surprised to know that the locations of the companies you're looking for may just be here! Check out our plans and pricing to easily create a map of Aaron Brothers store locations.