Map of Abbey Carpet and Floor Locations
Abbey Carpet and Floor Locations Made Easier to Map
Mapline made it much easier to map Abbey Carpet and Floor locations. Since we provide the location data of the said company, it only takes a couple of minutes to create a map of Abbey Carpet and Floor stores. This is a unique feature that no other territory mapping software offers. Thus, we stay true to what we really want our users to experience – mapping made simple! With a ready dataset, users can create a store locator in no time at all.

Mapline provides mapping tools that are so easy to use in business, data analysis, management, and risk reduction, to name a few. How do you start mapping? Follow these steps:
Steps to Create a Map of Abbey Carpet and Floor Locations
1. Create a Mapline account and login.
2. Click "New Map" to create a new map.
3. Give your map a name and click "Create Map."
4. Click the orange "Add Data Layers" button from the left sidebar.
5. Select the "Add Pins from Mapline Data" option.
6. Now you will see a list of all the datasets (spreadsheets).
7. Using the Search Box, select "Abbey Carpet and Floor" as your dataset.
8. Click "Done."
In just a few seconds, you can customize the map pins just like the map below. This makes your map look more awesome!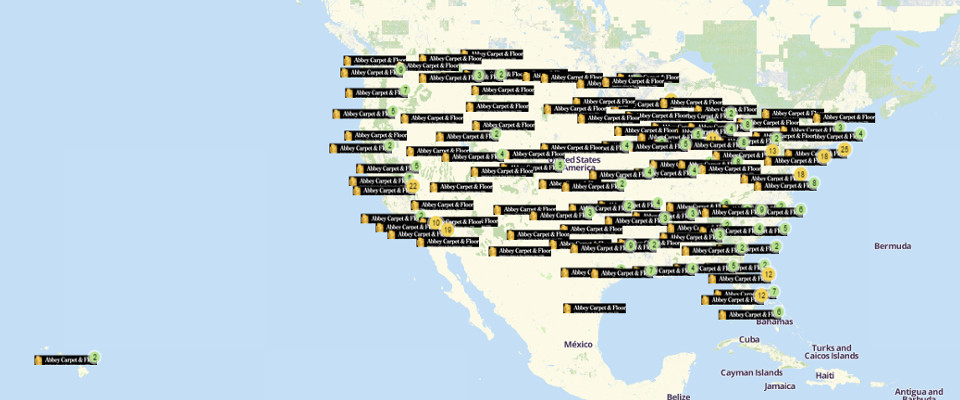 Vital Information Extracted from a Map of Abbey Carpet and Floor Stores
What more can you do and get from your map? Plot address locations data by street address, city, state, or postcode. You can even plot locations using latitude and longitude. To make Mapline your trusted territory mapping software, add territories to your map. We offer hundreds of territories (counties, zip codes, census tracts, countries, and more!). To keep up with the competition and capturing information for market segmentation, add more datasets to your map.
Use Mapline as your territory mapping software. Map location datasets of more than 5,000 companies. Compare plans and pricing here. Experience a more exciting and easier mapping now!