Map of ABF Freight System Locations
All ABF Freight System Locations Plotted on a Map
LTL shipping (Less Than Load) is now becoming a household name in both short-haul and long-haul markets. When locations of companies and customers are mapped, it can create a huge difference when it comes to data utilizing and analysis. Mapping ABF Freight System locations is one good example on how Mapline helps to enhance data visualization to improve shipping, transport services, and manage supply chain.

Steps to Create a Map of ABF Freight System Locations
1. Create a Mapline account and login.
2. Click "New Map" to create a new map.
3. Give your map a name and click "Create Map."
4. Click the orange "Add Data Layers" button from the left sidebar.
5. Select the "Add Pins from Mapline Data" option.
6. Now you will see a list of all the datasets (spreadsheets).
7. Using the Search Box, select "ABF Freight System" as your dataset.
8. Click "Done."
All ABF Freight System locations pin can be customized all at once in just a few clicks as you download the logo of the company. Your map will look like this: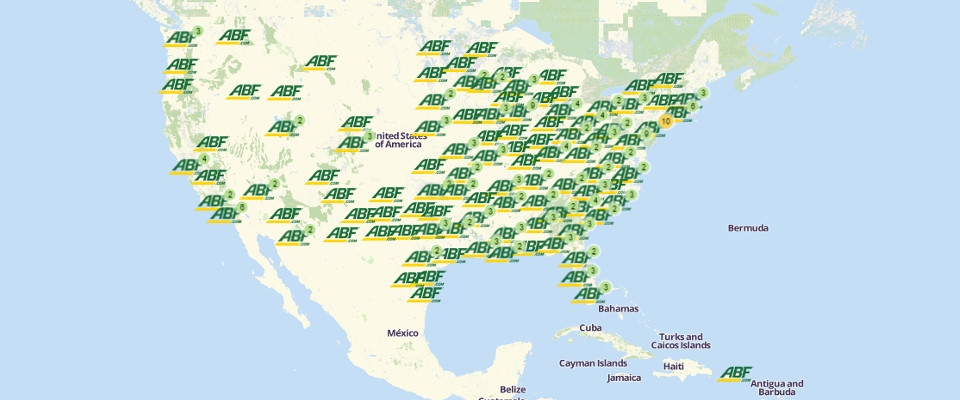 Mapping Solutions to Bust Challenges
Challenges of transport companies such as delivery and logistics can be resolved when locations data are plotted on a map. Add more locations datasets to know the distance between all locations. Radius maps can also be created in just a few clicks. This makes shipment and logistics management made more seamless. Create heat maps as well so you can effectively manage risks in your business.
Visit our plans and pricing page to know more about the different plans and features. Create a map of ABF Freight System locations now.