Map of A.C. Moore Locations
Plot A.C. Moore Locations Easily on Your Map
Headaches when mapping? Not when you use a store locations mapping software like Mapline. We provide datasets of store companies like A.C. Moore locations so all you need to do is to plot it on the map. A map of A.C. Moore craft stores is a powerful visual that offers critical business information that can be used in inventory, manage supply chains, and building strong customer relationships.
Store locations mapping reveal vital information to help decision makers make actionable insights on where to invest their new business, what approach to use, and how it affects the local market. When Mapline tools are used, you can easily identify customers, competitors, and new market that may affect your business.

Steps to Create an A.C. Moore Location Map
1. Create a Mapline account and login.
2. Click "New Map" to create a new map.
3. Give your map a name and click "Create Map."
4. Click the orange "Add Data Layers" button from the left sidebar.
5. Select the "Add Pins from Mapline Data" option.
6. Now you will see a list of all the datasets (spreadsheets).
7. Using the Search Box, select "A.C. Moore" as your dataset.
8. Click "Done."
Maps plotted with datasets like A.C. Moore locations are often used in planning for sales strategies, marketing programs, business processes and increased profitability. You can make your map look even better by customizing your map pin. Upload a A.C. Moore logo and make it your map icon just like this map: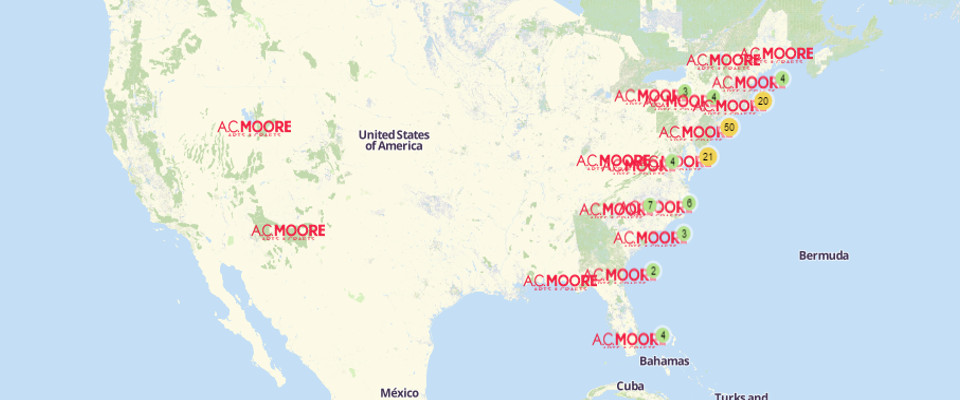 Using Store Locations Mapping for Business Analysis
By trying out more mapping features, your A.C. Moore locations map an even greater impact. Here are other mapping analysis features that you can add:
If it's not easy to create a map of A.C. Moore craft stores, what is? Check out other Mapline-provided datasets for more than 5,000 companies to choose from.