Map of American Eagle Outfitters Locations
Learn From Mapping American Eagle Outfitters Outlet Locations
Over the years, more and more companies trust Mapline to utilize their locations data for business analysis. They learned that using a web-based mapping tool can help with analyzing different avenues in business. When locations are visualized with the help of a map, new ideas spring empowering the users to take control of their business in a whole new level. Let's take mapping American Eagle Outfitters locations for example. Since we have the location dataset of the retail company, it's like mapping all 935 locations in a snap!

What will follow is a new data visualization tool that empowers you to analyze data, connections, and patterns just by studying the plotted locations of American Eagle Outfitters outlet.
Steps to Create a Map of American Eagle Outfitters Locations
1. Create a Mapline account and login.
2. Click "New Map" to create a new map.
3. Give your map a name and click "Create Map."
4. Click the orange "Add Data Layers" button from the left sidebar.
5. Select the "Add Pins from Mapline Data" option.
6. Now you will see a list of all the datasets (spreadsheets).
7. Using the Search Box, select "American Eagle Outfitters" as your dataset.
8. Click "Done."
What now, you may ask. Simply by customizing the map pins, your map will not only look more impactful but also one that really informs.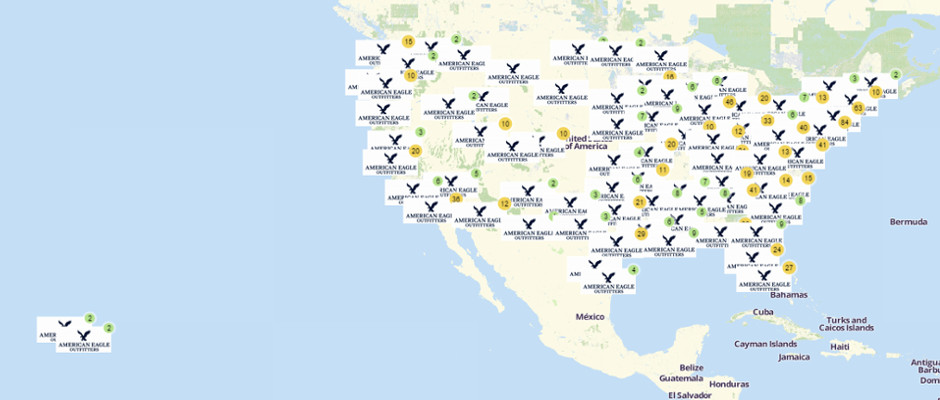 Web-Based Mapping Tool to Enhance Data Analysis
Learn to use other mapping tools to elevate your location data analysis. Fortunately, Mapline provides so many helpful tools that will help you achieve what you're really aiming for in terms of visualization and analysis of locations. There's the heatmap option that helps you identify growth opportunities and mitigate market risks. You can also build sales territories by adding territory overlays or customize your own territory boundaries. You can also show location labels or filter them to view locations with certain attributes.
To know more about the different plans, visit the pricing page. Aside from mapping American Eagle Outfitters locations, we provide other companies' datasets (more than 5,000 companies). Start mapping now!