Map of Baldwin Filters Locations
Learn From a Map of Baldwin Filters
It's challenging to monitor your company if you have thousands of locations and distribution centers located in different parts of the world to cater to your global business. What can help is a distributor location mapping software like Mapline. In just a couple of minutes, turn your map into a data analysis tool that will help you understand your customer data coverage. Can Mapline really do that? Let's map Baldwin Filters locations for example. We have the dataset containing 3,392 locations. Get ready with your timer and see how simple it is to map.

Steps to Create a Map of Baldwin Filters Locations
1. Create a Mapline account and login.
2. Click "New Map" to create a new map.
3. Give your map a name and click "Create Map."
4. Click the orange "Add Data Layers" button from the left sidebar.
5. Select the "Add Pins from Mapline Data" option.
6. Now you will see a list of all the datasets (spreadsheets).
7. Using the Search Box, select "Baldwin Filters" as your dataset.
8. Click "Done."
After plotting all the locations, customize your map pin and make your map look more awesome!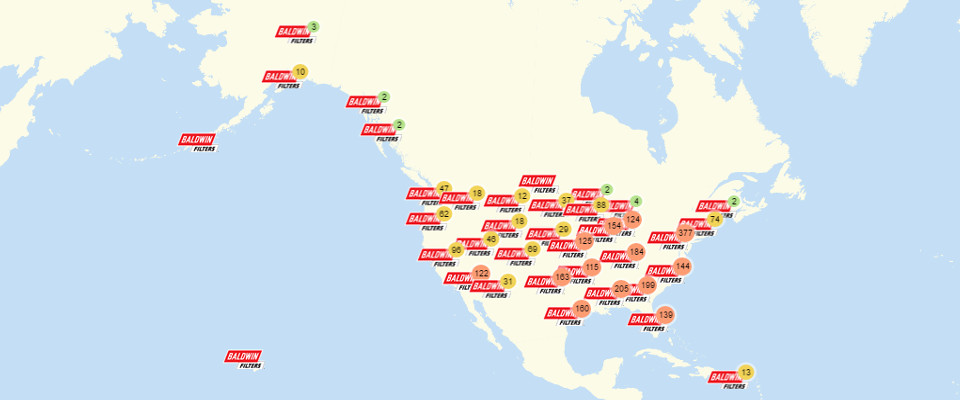 What Distributor Location Mapping for Data Analysis
With a map of Baldwin Filters locations, you can still add more locations and export straight-line distance grid so you would know the distance between all locations. You can also send automated XML data feeds. It allows you to upload your data onto Mapline. You can also access the locations data repository and find other companies. The locations of your clients may be on the list. It may also give you an idea on which companies approach to discuss your business. Create your map of Baldwin Filters locations now and see how Mapline makes data analysis so much simple!