Map of Banana Republic Store Locations
Retail Locations Mapping in Utilizing Data
Many retail store companies use Mapline not only for mapping but also to understand their data. With new and improved tools and features, users are able to utilize their locations data and use it to improve business growth. When locations are plotted on a map, it opens new ideas for the users to understand the market and the competition better. A good example is creating a map of Banana Republic store locations. Since we have the dataset of all Banana Republic locations, mapping takes only a minute.

Steps to Create a Map of Banana Republic Store Locations
1. Create a Mapline account and login.
2. Click "New Map" to create a new map.
3. Give your map a name and click "Create Map."
4. Click the orange "Add Data Layers" button from the left sidebar.
5. Select the "Add Pins from Mapline Data" option.
6. Now you will see a list of all the datasets (spreadsheets).
7. Using the Search Box, select "Banana Republic" as your dataset.
8. Click "Done."
What will make your map of Banana Republic unique is customizing the pin by downloading a company logo and make it as your pin.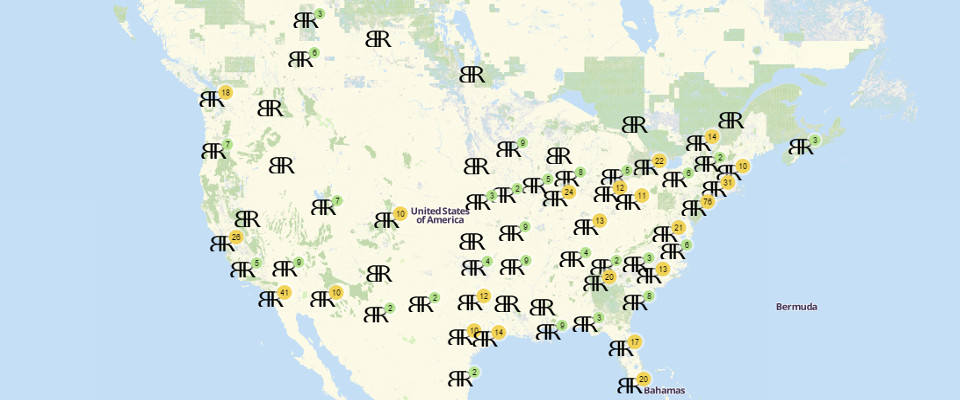 Data Envisioned with Retail Locations Mapping
To make all Banana Republic locations data work for you, use different Mapline tools. Build sales territories using hundreds of territory sets by county, state, or zip codes. Plot multiple datasets to perform market analysis and analyze the connections between location data. This will help you to identify new trends and insights needed for business growth. Then customize the pins. Use different symbols, colors, and sizes for distinction. Create heat maps by location density, sum or average of data. You can analyze how locations affect the performance of your business by area as you visualize the density of each location.
For further details, visit our plans and pricing to begin mapping Banana Republic store locations.