Map of Banfield Pet Hospital Locations
Easily Create a Map of Banfield Hospital Locations
Mapline is used by different organizations including hospitals and clinics. Their locations are important so they can identify the behavior, patterns, and connections of the environment in each location. When location datasets are plotted on a map, it can provide a string of important ideas and new insights that are significant to identify the problem and come up with an effective solution. With Mapline, creating a map of Banfiend Pet Hospital takes only a minute (maybe even less!).

Steps to Create a Map of Banfield Pet Hospital Locations
1. Create a Mapline account and login.
2. Click "New Map" to create a new map.
3. Give your map a name and click "Create Map."
4. Click the orange "Add Data Layers" button from the left sidebar.
5. Select the "Add Pins from Mapline Data" option.
6. Now you will see a list of all the datasets (spreadsheets).
7. Using the Search Box, select "Banfield Pet Hospital" as your dataset.
8. Click "Done."
Change the map marker into something unique like the company logo of Banfield Pet Hospital. You'll be surprised how awesome your map would look like in just a few clicks.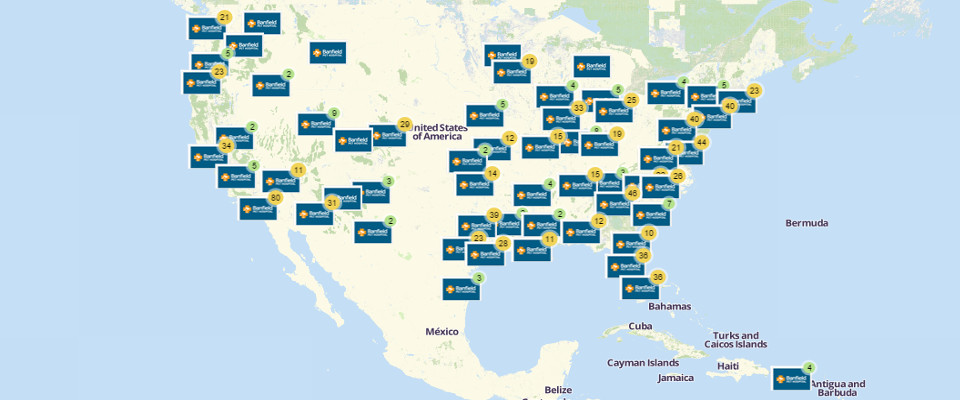 What a Map of Banfield Pet Hospital Tells You
This map may tell a lot including solving a pain point, understand where the problem originates, and how to manage risks – but only by using other Mapline tools. Start by plotting additional location datasets – clients, schools, government agencies – to understand the connections. Add territories for data analysis by area. Customize your map pins by using other shapes, symbols, or colors to distinguish your data layers. Also, create heatmaps to help you mitigate and manage risks.
Browse here for other datasets we provide from other hospitals, clinics, and companies. Visit our plans & pricing page for further details. Create your own map of Banfield Pet Hospital locations now.