Map of B&M Retail Store Locations
Advantage of Creating Retail Competition Maps with Mapline
Competition becomes tougher and stiffer now than ever before. Retail competition maps are needed so companies can innovate and strategize more effectively. Thus, Mapline provides features to help you map simpler and faster as you make an edge in the competition. We offer datasets of international companies. One of these is the location dataset of B&M stores in UK. A map of B&M retail store locations helps in analyzing market needs even in international region.

Steps to Create a Map of B&M Retail Stores
1. Create a Mapline account and login.
2. Click "New Map" to create a new map.
3. Give your map a name and click "Create Map."
4. Click the orange "Add Data Layers" button from the left sidebar.
5. Select the "Add Pins from Mapline Data" option.
6. Now you will see a list of all the datasets (spreadsheets).
7. Using the Search Box, select "B&M Retail UK" as your dataset.
8. Click "Done."
As you customize the pins on your map of B&M retail store locations, you will notice that the map looks more appealing. It helps ignite ideas so you can achieve your data analysis in half the time.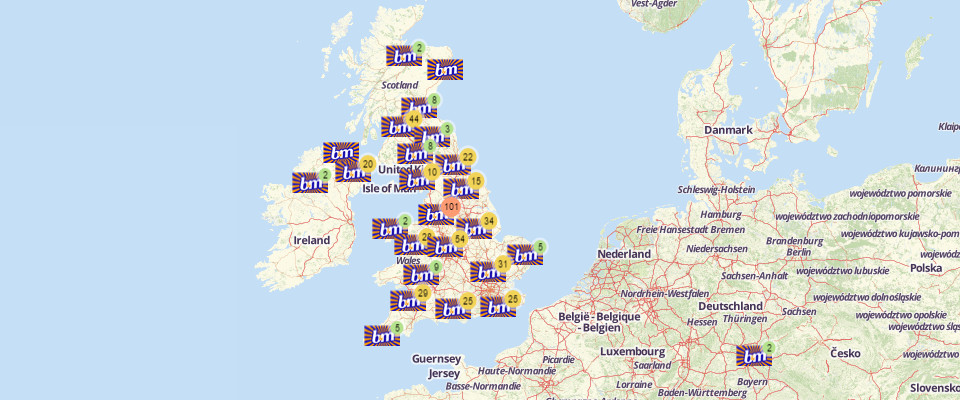 Retail Competition Maps Bring Deeper Data Analysis
Retail competition maps can be made in just a few minutes with Mapline. To make the most from your maps, try filtering the data characteristics of the locations. It helps in deeper analysis. Add multiple locations and use customized map markers to represent each dataset. Create heatmaps to visualize the density of the location per region or area.
Browse from this list of companies' datasets. Currently we house more than 5,000 companies and from time to time, the list grows longer! Visit the plans and pricing page to make sure you select the right plan for you. Start creating your own map of B&M retail store locations.