Map Dillons Grocery Stores with Mapline – a Better Mapping Advantage
Dillons grocery stores are scattered in the state of Kansas in the US. You don't need to go through the hassles of creating a spreadsheet and collate the location information of each store just to map them all. Mapline has the Dillon's dataset ready for you! Dillon's, a division of The Kroger Company, is a grocery supermarket chain which operates in the Wichita metropolitan area and Topeka, Kansas. Under its division, it operates under other banners like Baker's and Food 4 Less stores in Nebraska and Gerbes in Missouri. It operates a dry grocery warehouse in Goddard, Kansas while its warehouses for frozen and perishable foods and a dairy and bakery manufacturing plant is located in Hutchinson, Kansas.
Using Mapline, easily create a map of Dillons grocery stores in less than a minute.


Steps to Create a Map of Dillons Grocery Stores
Create a Mapline account and login.
Click "New Map" to create a new map.
Give your map a name and click "Create Map."
Click the orange "Add Data Layers" button from the left sidebar.
Select the "Add Pins from Mapline Data" option.
Now you will see a list of all the datasets (spreadsheets).
Using the Search Box, select "Dillon's Supermarkets" as your dataset.
Click "Done."
And that's just when the excitement begins. Try uploading a Dillon's logo and customize the map icon so your map would turn into something like this: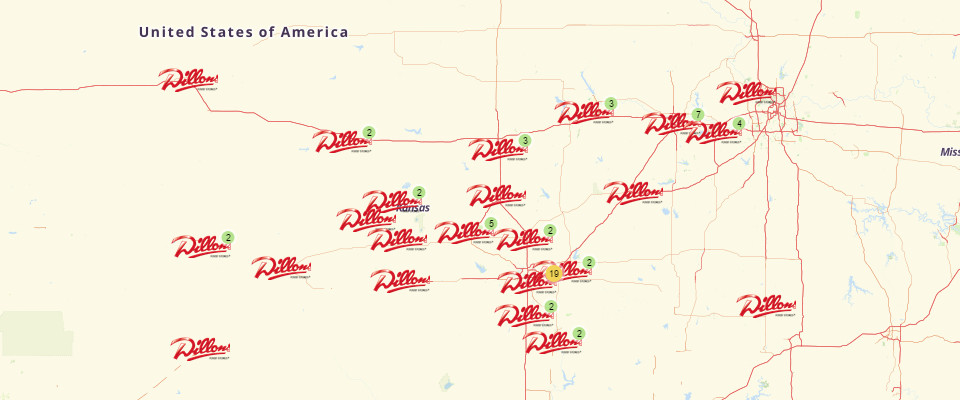 Wait! It gets even better! Try playing around some features at the left side bar like clustering pins, showing labels, creating heat maps, and adding coverage overlay and you're into a better mapping advantage. Click any map pin and you will see the summary information of the location inside a bubble.
Click here to browse from more than 5,000 companies and over 4 million locations that we have for you! Sign up now to create a Dillons grocery stores map.