Map First American Financial Locations This Easy!
Looking for an easy way to map all the locations of First American Financial? Mapline offers not only an easy way but the easiest way to create a map of First American Insurance locations. First American Financial is one of the leading financial services in the USA providing title insurance and settlement services to real estate and mortgage industries. It covers more than 60 countries. The company also offers title insurance for plant management services, real property, home warranty products, and banking advisory services.


Mapline tools are user friendly so you can create the map in just a couple of minutes. Just follow these steps:
Steps to Create a Map of First American Financial Locations
Create a Mapline account and login.
Click the orange "Add Data Layers" button from the left sidebar.
Click "New Map" to create a new map.
Give your map a name and click "Create Map."
Select the "Add Pins from Mapline Data" option.
Now you will see a list of all the datasets (spreadsheets).
Using the Search Box, select "First American Financial" as your dataset.
Click "Done."
Want to make your map look even better? Upload custom images for your map pins. Add the company logo of First American Financial and it will be your map icon.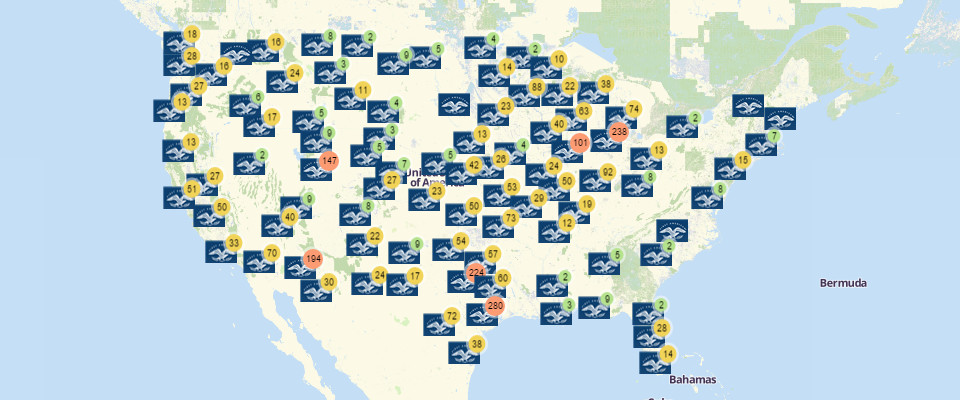 Using other map features will make your map work for you. The map visual will empower you to identify connections between locations that are pertinent to your decision making. Some features worth adding are:
Show labels – Enhance your presentations when labels are added to your pins. It helps distinguish locations.
Sublayers – Group your pin colors according to any column from your spreadsheet. Easily see sales customers by manager or region.
Information bubbles – A map pin bubble shows about everything there is to know about that location.
Need other locations to map? Mapline provides datasets of more than 5,000 companies. Sign up now to create a map of First American Insurance locations.