Map Kwik Shop Locations the Quickest!
Interested in mapping a Kwik Shop locations without hiring someone to scrape the data? Mapline has done all the work for you! Kwik Shop is a chain of convenience stores and gas stations scattered throughout Iowa, Kansas, and Nebraska. Its headquarter is located in Hutchinson, Kansas. Kwik Shop was founded in 1960 as an operating division of Dillons. In 1983, Dillon Companies and Kwik Shop merged with The Kroger Companies, making a mark in the history as the largest food retailer in the USA.
Using Mapline, create a map of Kwik Shop locations in just a few clicks. Mapline has 134 locations of Kwik Shop to add to your map.


Steps to Create a Map of Kwik Shop Locations
Create a Mapline account and login.
Click "New Map" to create a new map.
Give your map a name and click "Create Map."
Click the orange "Add Data Layers" button from the left sidebar.
Select the "Add Pins from Mapline Data" option.
Now you will see a list of all the datasets (spreadsheets).
Using the Search Box, select "Kwik Shop" as your dataset.
Click "Done."
Once you have your pins on your map, you can easily customize map pin images like uploading a Kwik Shop logo and make it your map pin icon.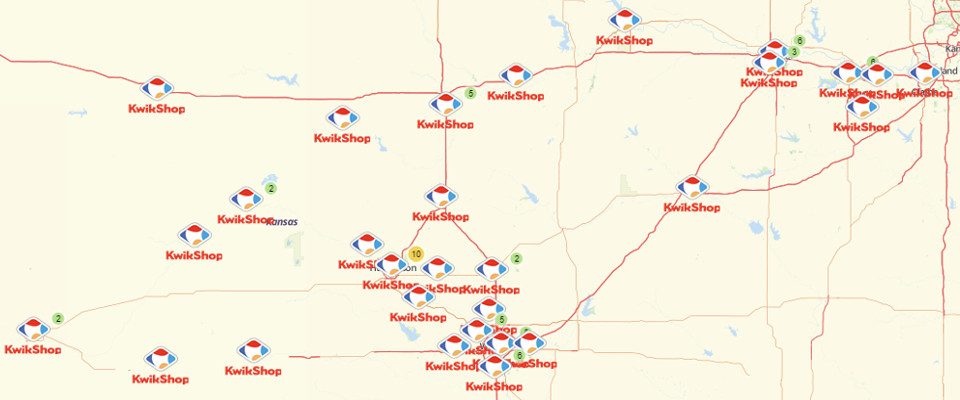 Want to pump up your map even more? Here are some other features that you may want to use. For example, showing labels can help you make great map presentations. Drawing custom shapes on your map gives you the ability to do what may be impossible to be accomplished in your spreadsheet. Filtering your map allows you to show or hide the locations according to their distinct characteristics.
Sign up now to create a Kwik Shop locations map. Go ahead and build other maps with Mapline-provided external data!