Map of A&W Restaurant Locations
Map of A&W Restaurants
Location mapping of eating places such as A&W restaurant locations brings positive results for informed decision making. Mapping with Mapline makes it even more convenient because you can create a map of A&W restaurants in just a minute. No need to go through the tiresome task of collating all the locations of A&W restaurants. We got it covered which other competitor mapping software do not offer.

Steps to Create a Map of A&W Restaurant Locations
1. Create a Mapline account and login.
2. Click "New Map" to create a new map.
3. Give your map a name and click "Create Map."
4. Click the orange "Add Data Layers" button from the left sidebar.
5. Select the "Add Pins from Mapline Data" option.
6. Now you will see a list of all the datasets (spreadsheets).
7. Using the Search Box, select "A&W Restaurants" as your dataset.
8. Click "Done."
Let Your Data Speak Up on Your Map of A&W Restaurants
After adding the A&W restaurant locations dataset, make your map come alive by uploading the logo of A&W and make it your icon. See the map below? Cool, isn't it?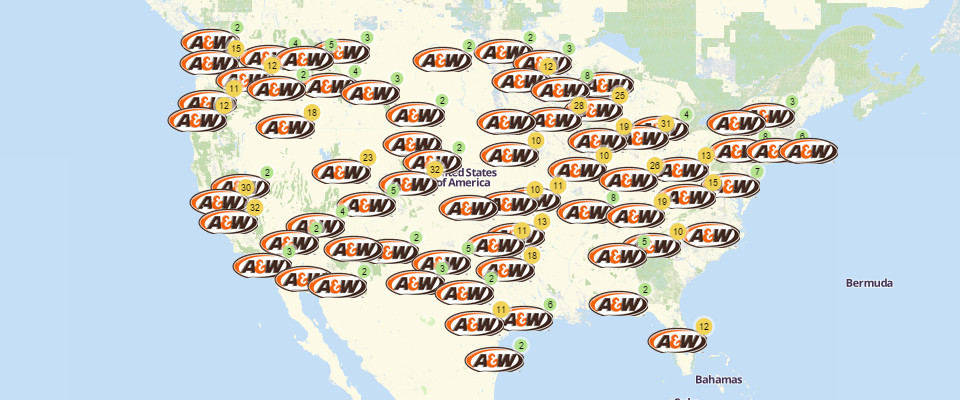 Make your map of A&W restaurants do the talking by adding more mapping features. Try clustering the pins (if you have hundreds of pins, they will be clustered by default) or showing labels of addresses, names, cities or any label you want to show. Want to dig deeper on data analysis? Create heat maps to know the location density or the sum or average of sales. You can also add coverage overlay to know the network coverage of different service areas.
Mapline gives you more than any other competitor mapping software offers. Click here to browse from more than 5,000 companies and over 4 million location datasets to map. View plans and pricing to start creating your very own and customized map of A&W restaurant locations.