Map of City Market Locations
City Market locations can now be easily mapped using Mapline. City Market, a supermarket operated by Kroger, can be found in the states of Colorado, New Mexico, Utah, and Wyoming. Its headquarters is in Grand Junction, Colorado. It was founded by the Prinster family in 1924 until the company was acquired by Dillon Companies in 1969. In 1983, Dillon merged with Kroger.
With Mapline, you don't need to go through the hassle of searching each locations in the web and create a spreadsheet for that. Mapline provides the dataset of City Market locations. Follow these steps and you'll have your map in no time at all.


Steps to Create a Map of City Market Locations
Create a Mapline account and login.
Click "New Map" to create a new map.
Give your map a name and click "Create Map."
Click the orange "Add Data Layers" button from the left sidebar.
Select the "Add Pins from Mapline Data" option.
Now you will see a list of all the datasets (spreadsheets).
Using the Search Box, select "City Market" as your dataset.
Click "Done."
Just that simple and you now have your map of City Market locations. Plus, in just a few clicks, you can customize your map pin by uploading a logo. Your map would look like this: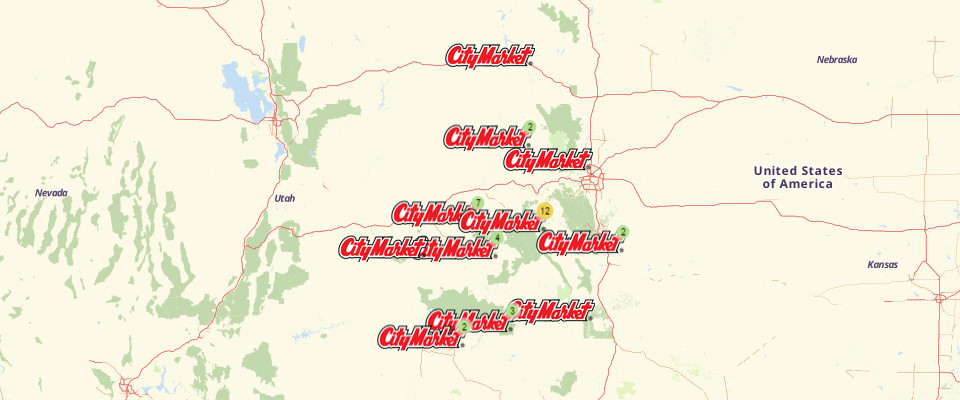 We suggest that you try some other mapping options to enhance your mapping experience:
To see the summary information of each location (name, address, hours of operation, phone number, etc.), just click the map pin to show the bubble. Aside from City Market supermarket locations, be amazed to search your needed company locations from our list of more than 5,000 companies and over 4 million locations worldwide! Sign up now to create a map of City Market locations.