Map of Foods Co. Locations
Map Foods Co. locations right here, right now with Mapline! Foods Co., a subsidiary of Kroger, was established in 1992 with a philosophy of meeting together 2 significant factors – high quality grocery items and low price. Since then, the warehouse grocery stores were recognized as such. Each week, the stores serve to over 2 million customers. Foods Co. operates in markets where Kroger does not have the rights to operate as "Food 4 Less."
Using Mapline, build a map of Foods Co. Less locations in a minute!


Steps to Create a Map of Foods Co. Locations
Create a Mapline account and login.
Click "New Map" to create a new map.
Give your map a name and click "Create Map."
Click the orange "Add Data Layers" button from the left sidebar.
Select the "Add Pins from Mapline Data" option.
Now you will see a list of all the datasets (spreadsheets) available.
Using the Search Box, select "Foods Co." as your dataset.
Click "Done."
With just a few clicks and you can have your map set up just like the one below. There's also an option for you to customize the map pin and turn it into a Foods Co. logo.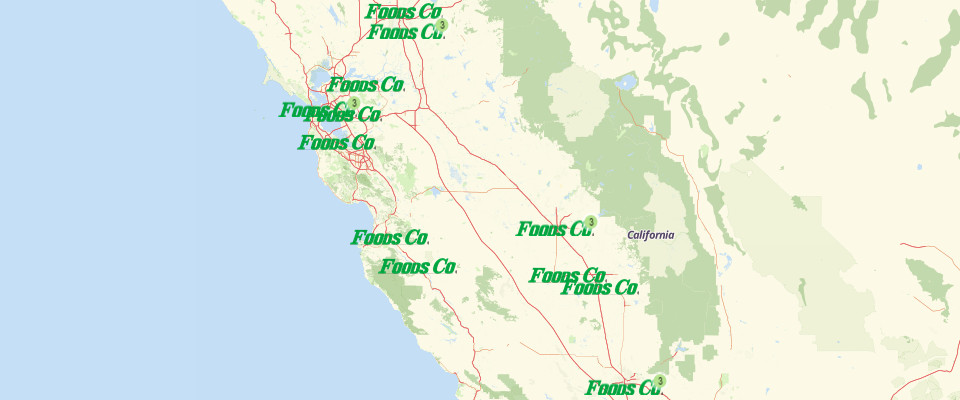 Creating a map of Foods Co. locations is just the beginning. There are a lot more mapping options that you can use once you have your map. You may want to try clustering your map pins, showing labels, creating heat maps, and adding coverage overlay. Click the map pin and a bubble will appear showing the summary information of the location – address, phone number, hours of operation, etc.
Aside from Foods Co., check out from our list of datasets and browse from more than 5,000 companies and over 4 million locations worldwide. Sign up now to create a map of Foods Co. locations.