Map of Fred Meyer Locations
Stop looking for a map of Fred Meyer locations elsewhere and start building your own! Fred Meyer is a chain of superstores founded by Fred G. Meyer. The very first store was established in  Portland, Oregon in 1922. It is one of the pioneers of one-stop shopping, making it possible to combine almost anything under one roof. True to its being a superstore, Fred Meyer is also a clothing store, electronics store, fine jeweler, home improvement, shoe store, sporting goods store, and a toy store all in one. The company merged with Kroger in October 1998.
Using Mapline, you can easily create a Fred Meyer locations map. Today, the superstores are scattered all over Alaska, Idaho, Oregon, and Washington. As a leading mapping software, Mapline makes it super easy for you to create a map of Fred Meyer locations.


Steps to Create a Map of Fred Meyer Locations
Create a Mapline account and login.
Click "New Map" to create a new map.
Give your map a name and click "Create Map."
Click the orange "Add Data Layers" button from the left sidebar.
Select the "Add Pins from Mapline Data" option.
Now you will see a list of all the datasets (spreadsheets) available to you.
Using the Search Box, select "Fred Meyer" as your dataset.
Click "Done."
When you're done adding the dataset, you can customize your map pin and turn it into a Fred Meyer logo. Your map would look like this: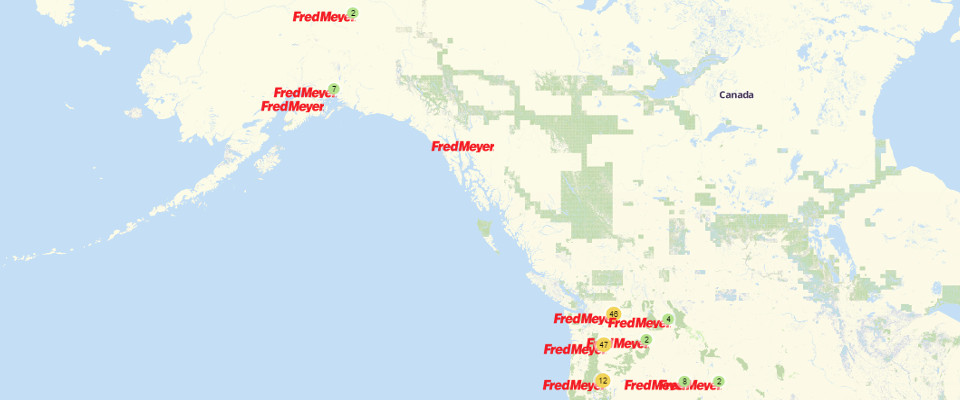 See how easy it is to create a map of Fred Meyer locations? Once you have your map, try other mapping options like clustering pins, showing labels, creating heat maps, and adding coverage overlay. When you click on a pin, a bubble will show and will give you that location's information like its name, city, state, hours of operations, and phone number.
There are more than 5,000 companies and over 4 million locations worldwide that you can add to your map! Sign up now to create a map of Fred Meyer locations.