Map of Harris Teeter Locations
Quickly Visualize all Harris Teeter Locations
Need a faster and easier way to map out Harris Teeter store locations? Mapline provides dataset locations of more than 5,000 companies for retail store mapping, including Harris Teeter.
About Harris Teeter
Harris Teeter is a supermarket chain scattered throughout several states in the US, namely Delaware, District of Columbia, Georgia, Florida, Maryland, North Carolina, South Carolina, and Virginia. It was founded by William Thomas Harris and Willis L. Teeter, who were both running their own supermarkets separately at the time (Harris Super Market and Teeter's Food Mart). They then merged their stores to create Harris Teeter in 1960. In 2014, the Kroger Company acquired Harris Teeter.
To help you find locations you're looking for, Mapline allows you to easily create a map of Harris Teeter locations in a snap! Here's how:


Steps to Create a Map of Harris Teeter Locations
Create a Mapline account and login.
Click "New Map" to create a new map.
Give your map a name and click "Create Map."
Click the orange "Add Data Layers" button from the left sidebar.
Select the "Add Pins from Mapline Data" option.
Now you will see a list of all the datasets (spreadsheets) available.
Using the Search Box, select "Harris Teeter" as your dataset.
Click "Done."
What's even better is that you have an option to customize the map pin by uploading a Harris Teeter logo. Your map would look like this: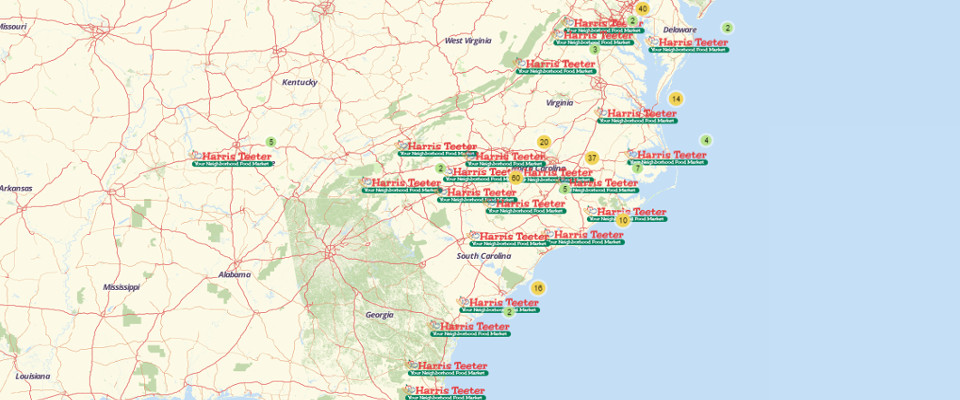 See how easy it is to build a map with Harris Teeter locations? And that's not all! Check out some options that you will find beneficial on your map, such as adding coverage overlay, clustering pins, creating heat maps, and showing labels. Another one of our features also allows you to access the summary information of the location just by clicking on the pin to show the bubble.
Browse from a list of datasets to plan your next mapping experience. Choose from 5,000 plus companies and more than 4 million locations worldwide! Sign up now to create a Harris Teeter locations map.